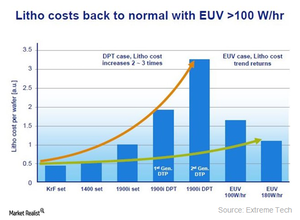 Is Global Foundries' Wafer Supply Agreement Concerning for AMD?
By Puja Tayal

Updated
The Wafer Supply Agreement between AMD and Global Foundries
In the previous part of the series, we learned that there's a huge gap between the gross margins of Advanced Micro Devices (AMD) and its rivals Intel (INTC) and NVIDIA (NVDA).
The huge gap is due to the fact that AMD has been operating in the low-end market. Now, it's looking to improve its margins and compete with rivals in the high-end space with advanced technology.
AMD has a WSA (Wafer Supply Agreement) with GF (Global Foundries) that will be effective until 2024. As per the agreement, AMD will be obligated to purchase all its MCU (microprocessor) and APU (application processing unit) requirements and a portion of its GPU (graphics processing unit) requirements from GF. A very limited number of products are exempt from this obligation.
While the WSA favors GF, it could have an adverse impact on AMD's gross margin.
Article continues below advertisement
Risks WSA brings for AMD
AMD's earnings will be materially impacted if GF is unable to meet the chip company's manufacturing requirements, as that would lead to a product shortage, giving competitors the chance to gain market share. 
One way to prevent this is by securing more exceptions to the contract, allowing AMD to have its chip requirements satisfied by other foundries. However, if AMD isn't able to get more exceptions, its earnings could be severely affected.
Gross margin
AMD has to purchase wafers from GF irrespective of the process node or yield. There's the distinct possibility that GF will be able to transition to a 10nm (nanometer) node by the end of 2018, when AMD plans to launch its next-generation GPUs and APUs. If GF is unable to meet the 2018 timeline, AMD will lose in terms of technology, as it won't have the flexibility to switch foundry partners.
Transitioning to the 7nm node between 2018 and 2020 will require an EUV (extreme ultraviolet) lithography process. However, analysts don't expect GF to transition its fab equipment toward EUV lithography by 2020. Hence, the foundry may manufacture 7nm chips using DUV (deep ultraviolet) lithography.
The DUV process will likely diminish wafer yields and limit AMD's ability to improve its gross margin beyond 40%. AMD could have to give up profitability to boost its revenue and market share.
Reduce competitive advantage
If GF is unable to achieve its desired manufacturing yields, implement advanced process technologies, and manufacture the desired quantity of products on time and at a low cost, AMD could face delays in product launches, supply shortages, and high production costs, reducing its competitive advantage and pushing it back to losses.
Unlike AMD, NVIDIA has the flexibility to contract more than one foundry or to switch foundry partners according to its requirements. It's currently manufacturing its GPUs at TSMC's (TSM) fabs.
Next, we'll see how AMD could turn the WSA in its favor.