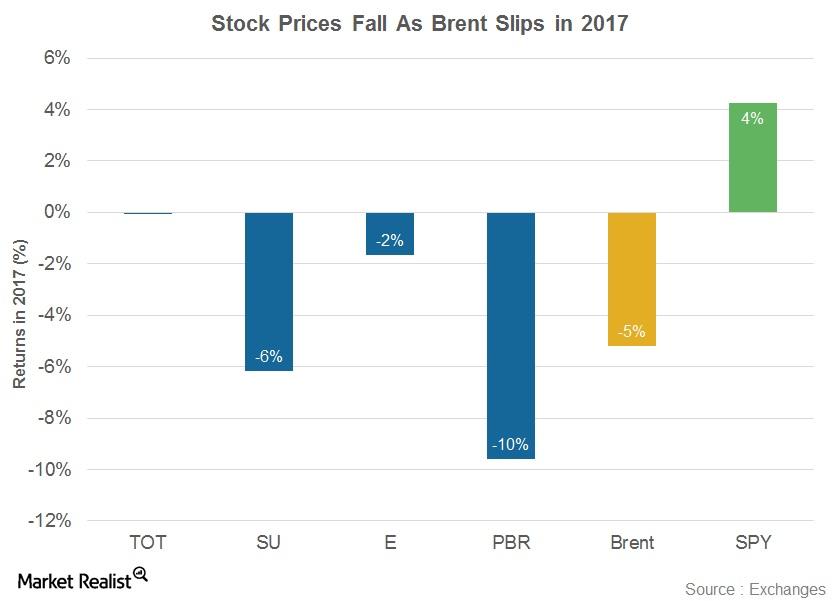 International Integrated Energy Stocks Take a Tumble in 2017
By Maitali Ramkumar

Aug. 18 2020, Updated 5:33 a.m. ET
International integrated energy stock performance
In 2017, year-to-date, Total (TOT) stock has remained almost flat, which is better than peers Suncor Energy (SU), ENI (E), and Petrobras (PBR), which have fallen in the same period. Suncor and ENI fell 6% and 2%, respectively. However, PBR fell sharply by 10% in 2017.
On the contrary, the broader market indicator, the SPDR S&P 500 ETF (SPY), rose 4% YTD. The ETF has ~7% exposure to energy sector stocks including American integrated players like ExxonMobil (XOM) and Chevron (CVX). Let's look at what led to the fall in international integrated energy stocks.
Article continues below advertisement
Usually, integrated energy stocks show high positive correlations to crude oil prices, which we'll discuss later in the series. Oil prices rose in December 2016 due to OPEC's decision to cut production. However, in 2017, oil prices have been volatile. Brent has moved down 5% YTD on the back of global oversupply concerns. Also, the increase in Saudi Arabia's oil production and Russia's lower compliance to the major cut led by OPEC pressured oil prices. However, in the past week, oil prices have recovered. For more on this, please read, Are US Oil Producers Making Oil's Rise a Bull Trap?
Crude oil prices directly impact integrated energy companies' upstream revenues. Thus, the higher the oil prices, the higher the upstream revenues for integrated energy companies. Thus, the volatility in oil prices in 2017 presumably pressured integrated energy stocks' prices.
Moving averages of international integrated energy stocks
Integrated energy stocks recovered in 2016 due to rising oil prices. The stocks had a positive opening to 2017. TOT, SU, and E traded above their 50-day and 200-day moving averages at the beginning of the year. However, PBR traded below both the averages. Their upward movement was distorted at the end of February, whereby the stocks saw weakness due to pressured oil prices. For more on this, please read Why Did Crude Oil Prices Hit a 3-Month Low?
Currently, TOT, E, SU, PBR trade above their 200-day moving averages. Also, Total and ENI trade above their 50-day moving average. But SU and PBR trade below their 50-day moving average.
Series outline
In this series, we'll do a cross-sectional analysis of international integrated energy stocks in terms of dividend yield comparison, forward valuations assessment, institutional holdings levels, short interest changes, implied volatility movements, beta position, analyst ratings, and correlation with Brent.
For a similar analysis on American integrated energy stocks, you can refer to The Integrated Energy Sector: Let's Wrap It Up for 1Q17.