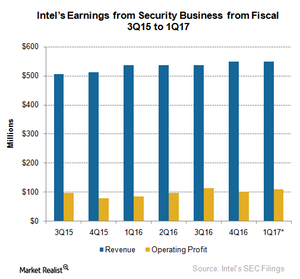 Why Did Intel Spin Off Its Security Business?
By Puja Tayal

May. 4 2017, Updated 9:05 a.m. ET
Intel spins off security business
As Intel (INTC) is becoming a data-centric company, its security has become key. Despite this, Intel recently spun off its security business by selling 51% of it to investment firm TPG for $3.1 billion. Intel acquired McAfee in 2010 for $7.7 billion, which means a 51% stake equates to $3.9 billion. It sold its stake in McAfee at a loss of $800 million. Fiscal 1Q17 is the last quarter in which Intel will report security earnings.
Intel's head of Security Business Chris Young will head McAfee. The new company will focus on software security and may also consider acquisition opportunities. Its key geography will be the Asia-Pacific region.
Article continues below advertisement
Intel to focus on hardware security
As Intel has spun off its security business, it will focus on hardware-level security. According to a ChannelWorld report, Intel's Software and Services Group general manager Doug Fisher stated that the company has secured strong insights into the security business after the McAfee acquisition. According to ChannelWorld, "separating the companies will put McAfee in a better position to grow in the software area, which is its core competency, Fisher said. It also leaves Intel in a better position to grow in hardware-level security at the chip and firmware levels, he added." It will add instructions and hooks to its chips, such as Software Guard Extensions, which will require user authentication to access data.
Internet of Things security
Intel is part of the Open Connectivity Foundation, which aims to develop IoTivity protocols. These protocols deliver secure connectivity between devices, multiple OS (operating systems), and wireless technologies. Intel offers True Key, a system that allows users to log into Microsoft's (MSFT) Windows PCs (personal computers) through biometric authentication. True Key competes with Microsoft's Windows Hello.
Automotive security
According to Doug Fisher, in the autonomous car space, Intel will require security at two levels. The first level would be in supercomputers installed inside cars, and the second would be in wireless connectivity delivering over-the-air updates to self-driving cars. ChannelWorld reported that "Intel will deliver a reference architecture to harden edge devices and gateways for automobile security." Moreover, the car industry will develop vehicle security standards for protecting autonomous cars from hacking.
Intel will continue its efforts to realign the focus of all of its business segments towards data. These efforts, if successful, could deliver strong returns in 2018 and beyond. Until then, growth is likely to be subdued for Intel.