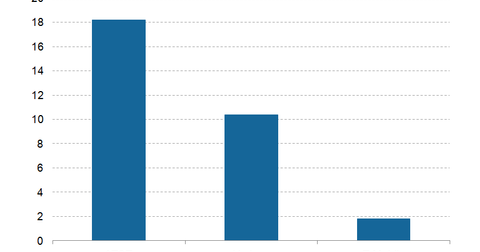 Insights from Verizon's and AT&T's 5G Road Maps
By Ambrish Shah

Updated
5G technology
In the telecommunications world, 5G (fifth-generation) technology is generating quite a bit of hype. The technology could provide ten to 100 times faster wireless speeds than 4G (fourth-generation) technology.
Now, let's analyze the 5G strategies and expectations of the four largest US mobile players: T-Mobile (TMUS), Verizon (VZ), AT&T (T), and Sprint (S).
Verizon continues to believe that fixed wireless will be the first use case for 5G technology, and it aims to be the first to market with a commercial launch in 2018. Verizon is currently launching 11 pre-commercial 5G pilots across the United States, bringing them one step closer to a commercial launch.
Meanwhile, with AT&T's broad fiber footprint and early trials, the carrier is well positioned for 5G adoption. It conducted its first 5G business customer trial last fall in Austin, Texas, using millimeter wave technology. It witnessed upload and download speeds of 1 Gbps (gigabit per second).
AT&T also plans to conduct 5G trials with Qualcomm (QCOM) and Ericsson (ERIC) in 2017, and these trials will be the first based on the 5G new radio specification being developed by the 3GPP (3rd Generation Partnership Project).
Article continues below advertisement
AT&T is aggressive with 5G
AT&T has been an aggressive player in the 5G market. In the past, it's tried to outbid its rivals to gain spectrum advantage. AT&T was the highest bidder during the AWS-3 (advanced wireless services) spectrum auction in early 2015, purchasing spectrum worth $18.2 billion.
The Federal Communications Commission has conducted the AWS-3 auction since 2008. As the graph above shows, Verizon and T-Mobile also participated in the auction, making winning bids of $10.4 billion and $1.8 billion, respectively.
T-Mobile's and Sprint's perspectives of 5G are currently limited, as the market for 5G technology is still very new.