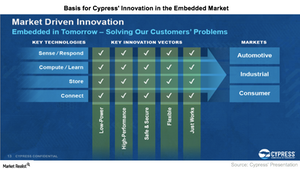 Inside Cypress's Strategy to Rule the Embedded Market
By Puja Tayal

Updated
Cypress's innovation in embedded systems
Most semiconductor companies (QQQ) are now moving into the automotive and IoT (Internet of Things) industries to boost growth. Among them is Cypress Semiconductor (CY), whose company's vision statement defines embedded systems as "solutions that sense, connect, learn, and respond to make life easier, save time and energy, and provide a better user experience."
The Cypress 3.0 business model caters to this vision, with its comprehensive portfolio of sensors to sense, its wireless connectivity and USB, memory analog, and MCUs (microcontrollers) to learn and respond, and software to run the entire program seamlessly. Cypress is aiming to innovate to make the above technologies low-power, high-performance, secure, flexible, and workable with the changing needs of consumers.
Article continues below advertisement
What differentiates Cypress from peers?
Providing embedded solutions is not a new concept. Companies such as Texas Instruments (TXN) and Microchip (MCHP) offer MCUs and analog, and they can add connectivity solutions. This raises a question, however: How can Cypress separate itself from the pack?
At the company's 2017 Analyst Day on March 28, 2017, Cypress CEO (chief executive officer) Hassane El-Khoury explained that high-performance connectivity solutions differentiate Cypress from its peers. And IoT (Internet of Things) is just a thing if it can't be connected seamlessly to the Internet and other devices. Even the most powerful MCU is of no use without high-quality WiFi, and the combination of the two is what Cypress offers.
Cypress's key markets
Within the embedded space, Cypress is targeting the industrial, automotive, and consumer markets. The company earns 52% of its revenue right now from automotive and industrial, which have long-design win cycles and stable revenues, making the chipmaker's revenue more predictable.
The addition of Broadcom's (AVGO) wireless IoT portfolio further strengthens Cypress's position in the the above three markets. The wireless connectivity business is expected to grow 17% annually. About 60% of that growth is likely to come from consumer, while 30% should from industrial, and 10% will likely come from automotive.
At the Morgan Stanley Technology, Media, & Telecom Conference on February 28, 2017, El-Khoury explained the additional growth opportunities for the connectivity business, stating that connectivity is an important segment within automotive.
Interest from automotive customers
Immediately after Cypress announced the acquisition of Broadcom's IoT business, it received interest from its automotive customers for connectivity solutions. Given its lengthy design cycle, the cross-selling opportunity would materialize into higher revenue from automotive over the next three to five years.
In this series, we'll look at Cypress' new growth opportunities and its strategy to tap them. Continue below for more.