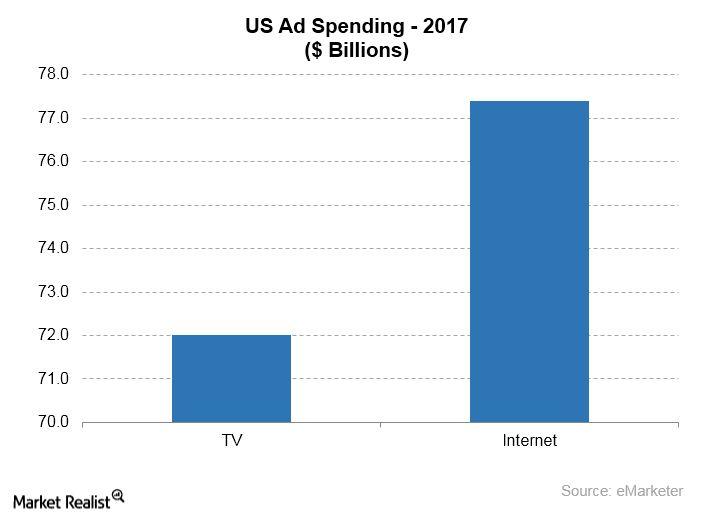 How YouTube TV Could Impact the Video Market
By Neha Gupta

Apr. 12 2017, Updated 9:07 a.m. ET
YouTube TV to stir video market scene
Alphabet's (GOOGL) YouTube TV is sure to cause a stir in the US (SPY) video business scene. For traditional pay-TV companies and online video providers such as Hulu and Netflix (NFLX), YouTube TV is going to increase competition for content creators, subscribers, and advertisers. For content creators, whether they are independent producers or large studios, YouTube TV is promising to unlock another revenue stream. However, how could YouTube TV affect Alphabet itself?
Article continues below advertisement
By launching YouTube TV, Alphabet is hoping to kill at least two birds with one stone. On the one hand, it is trying to grow its non-advertising revenue by collecting $35 a month from YouTube TV subscribers. On the other hand, it hopes to strengthen its advertising business, which is its primary source of revenue. In addition to digital video consumption rising as Millennials abandon traditional pay-TV bundles for cheaper alternatives, marketers are increasingly shifting their advertising budgets away from traditional television, print, and radio, and moving to Internet channels.
Huge market up for grabs
According to research company eMarketer, US advertisers will spend $77.4 billion on digital advertising this year and $72.0 billion on television advertising, as shown in the above chart. If Alphabet takes YouTube TV to Europe (EFA) and emerging markets (EEM), the revenue opportunity is even larger, considering that the global ad-supported television market is worth ~$185 billion annually, according to a William Blair report.
Near-term profits unlikely
While there are vast opportunities ahead for YouTube TV, the impact of the business on Alphabet's bottom line is likely to be negligible in the near term as the venture will initially demand heavy investments with low returns. YouTube TV will likely drive up Alphabet's expenses before it is fruitful. Netflix serves as an example here. Although it generated revenue of $8.8 billion in 2016, only $186.7 million trickled to the bottom line despite it being the market leader.