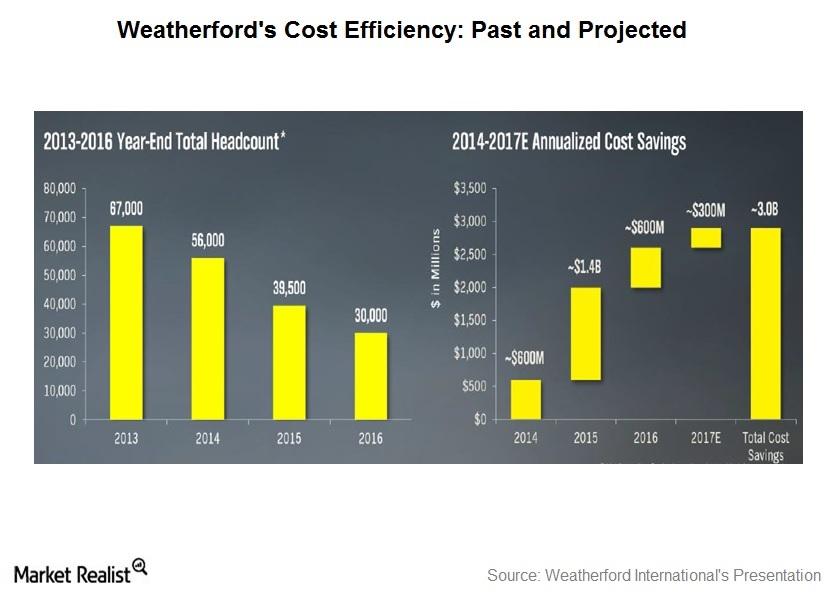 How Weatherford Aims to Reduce Costs in 2017
By Alex Chamberlin

Nov. 20 2020, Updated 4:33 p.m. ET
How does Weatherford plan to achieve cost restructuring?
Weatherford International (WFT), like many of its peers in the oilfield equipment and services (or OFS) industry, implemented cost reduction initiatives in order to counter the energy price depression that started in mid-2014. In 2016 alone, the company generated $600 million in annualized cost savings. The company made its cost structure leaner through the following measures:
WFT trimmed its fixed cost structure, leading to higher margins.
WFT upgraded its leadership team. On March 6, WFT appointed Mark A. McCollum as its new CEO. Previously, McCollum served as CFO of Halliburton (HAL), WFT's peer in the OFS industry.
WFT extended debt maturities to 2019 and beyond, which reduced its near-term interest costs. Read more on this in Market Realist's Exploring Weatherford International's Net Debt Goals.
Article continues below advertisement
By rationalizing infrastructure in over 900 locations in 90 countries, WFT reduced its number of facilities by 28%. It has also reduced the number of employees by 55% since 2013. WFT's management believes that the cost reduction efforts will be maximized once business volume increases, while fixed costs remain low.
Weatherford's cost reduction targets in 2017
In 2017, WFT plans to continue with its cost restructuring efforts. Its management targets $300 million in annualized cost savings in 2017, taking its total cost savings up to $3.0 billion from 2014 to 2017. 
WFT makes up 0.02% of the iShares Russell 3000 ETF (IWV). The energy sector makes up 6.0% of IWV. IWV tracks the Russell 3000 Index (RUA-INDEX), which is composed of 3,000 large companies in the US. The RUA-INDEX has risen 13% in the past one year.
Weatherford has also improved efficiency. WFT's patented RFID (radio-frequency identification) technology, which is used in well construction and production, leads to faster deployment times. This technology has resulted in cost recovery of up to $8 million per well. According to Weatherford's management, its Terraform Openhole Packers saved its customers up to $20 million per well. WFT has also introduced advanced technologies in logging-while-drilling and wireline operations.
Next, we'll discuss how the US rig count could affect WFT's 1Q17 financial results.