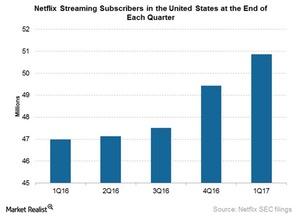 How the Changing Regulatory Environment Could Impact Dish Network
By Shirley Pelts

Updated
Changes in regulations
In March 2017, FierceCable reported that the United States (SPY) House of Representatives voted to pass legislation to repeal a set of privacy protection rules. The report notes that this repeal could be a win for cable and telecommunication companies such as Comcast (CMCSA), AT&T (T), and Verizon Communications (VZ).
Repealing these privacy rules should help Internet service providers (or ISPs), allowing them to engage in targeted advertising using consumer data, which could affect consumers' privacy rights.
Article continues below advertisement
FCC changes
In March 2017, the FCC, headed by Ajit Pai, stopped its investigation of telecommunication companies' zero-rating policies. Under these policies, telecommunication companies such as AT&T (T) and T-Mobile (TMUS) would allow subscribers to stream videos from services like Netflix (NFLX) without using up data from their data plans.
During its fiscal 2016 earnings call, Dish Network (DISH) stated its opinion regarding zero-rating policies. The company noted that while AT&T (T) used a zero-rating policy for its DIRECTV Now service, many telecommunication companies are providing unlimited data. This policy change could benefit its Sling TV service. Dish Network added that the majority of its users stream Sling TV on their mobile devices.
Dish Network anticipates that Pai's appointment as the FCC chair could result in what it calls "pro-consumer" policies. The company expects that Pai is likely to be aggressive about new services for viewers in the US, which could "bring new spectrum to the market."
Netflix's view of Trump's policies
In its 4Q16 earnings letter to shareholders, Netflix (NFLX) stated that if a rollback in net neutrality rules occurred under the Trump administration, it wouldn't expect this rollback to affect its margins adversely. 
Netflix believes that it is popular enough among subscribers for its interconnection agreements with ISPs to hold. At the end of 1Q17, and as indicated in the chart above, Netflix had 50.9 million domestic subscribers.