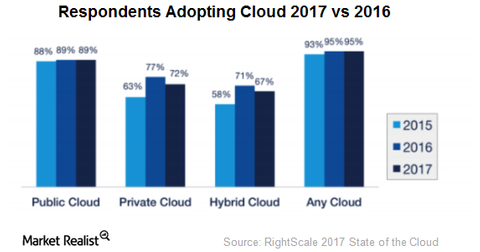 How Public Cloud Adoption Could Benefit Microsoft
By Anne Shields

Updated
Financial services and banks are adopting the cloud
Earlier in this series, we discussed the recent acquisition of Intentional Software by Microsoft (MSFT) that would benefit its Productivity and Business Processes segment. Earlier this week, Microsoft made news when it shared that UBS AG moved one of its platforms to the MS Azure cloud.
Earlier this week, Microsoft made news when it shared that UBS AG moved one of its business platforms to the MS Azure cloud. According to Microsoft, UBS has employed Azure to empower its risk-management platform and "is actively partnering with Microsoft for opportunities to move more business applications to the Azure cloud."
Article continues below advertisement
According to a Wall Street Journal blog, in late March 2017, J.P. Morgan (JPM) announced that it would move its trading applications to the public cloud. Dana Deasy, J.P. Morgan's global CIO,[1. chief information officer] told CIO Journal that the company aims to leverage cloud computing to handle its high-volume data and complex computations. Sharing his thoughts on the bank's move, Deasy said, "Public cloud is serious," adding "It's time to move."
Financial services companies and banks are known for their strict regulations and complex security requirements. Despite a recent global outage of Microsoft and Amazon (AMZN) services, the fact that these financial firms are making a move toward the cloud indicates its growing adoption, lightening the shadow cast on the reliability of public cloud services.
CIOs expect ~20% of applications moving to the cloud in 2017
According to RightScale 2017 State of the Cloud report and as the chart above shows, public cloud adoption is on the rise.
If we look at CIO.com estimates, public, private, and hybrid cloud implementations could accelerate in 2017 as chief information officers aim to benefit from the cloud's economies of scale and build core applications.
A 2017 Morgan Stanley (MS) report states that CIOs expect to move 21% of their applications to a public cloud in 2017, with this figure rising to 46% by 2020.