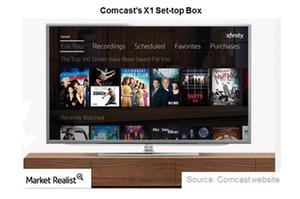 How Pay-TV Operators Plan to Take on Streaming Services
By Shirley Pelts

Updated
Comcast's plans to counter streaming services
Comcast (CMCSA) is increasingly focusing on its X1 set-top box to attract video subscribers. The company is following a multipronged strategy to withstand the rising competition from streaming service operators such as Netflix (NFLX).
The company has licensed the X1 to Cox Communications and Shaw Communications (SJR). Comcast has also integrated OTT (over-the-top) services such as Alphabet's (GOOG) YouTube. At the Deutsche Bank Media, Internet & Telecom Conference last month, Comcast stated that, with the integration of Netflix on the X1, video-on-demand (or VOD) usage jumped by almost 35%.
Article continues below advertisement
Comcast is also focusing on improving its service quality for the X1, as it believes that it has been the key to differentiating it from competition. In comparison, other OTT services such as Dish Network's (DISH) Sling TV and AT&T's (T) DIRECTV Now have suffered from technical glitches ruining the viewing experience.
Comcast could be preparing to launch a nationwide streaming service, Xfinity Instant TV. According to a FierceCable report from late last month, Xfinity Instant TV will have a base price of $15, with the price going up to $40 with the addition of different channels. It will be available to Comcast's broadband subscribers.
Comcast's market segmentation strategy
Comcast is a uniquely positioned company in the media sector. Its acquisition of NBCUniversal six years ago brought the production and distribution of content together. As a result, the company is offering products based on market segmentation. For example, its Internet Plus plan is geared towards Millennials, who are not very interested in streaming videos but would like high-speed Internet.
By offering different product bundles, Comcast can upgrade existing customers instead of losing them to competitors. Market segmentation could result in the reduction of involuntary churn for Comcast, which could drive up the company's average revenue per user in its cable communications business.