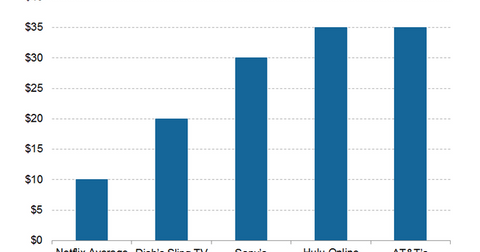 How Netflix Views Competition from Hulu and YouTube TV
By Shirley Pelts

Apr. 24 2017, Updated 6:36 a.m. ET
Online television services
The online television services trend is increasing. While Hulu is set to launch its online television service this year, Alphabet's (GOOG) YouTube TV has currently launched in five cities in the United States (SPY). 
Media companies such as 21st Century Fox (FOXA), Comcast's (CMCSA) NBCUniversal, and The Walt Disney Company (DIS) are equal stakeholders in Hulu, while Time Warner (TWX) bought a 10% stake in Hulu late last year.
As the popularity of streaming services such as Netflix (NFLX) grows, viewers are watching more and more content online. It tends to be cheaper to watch content online: For a viewer, a cable bill can be ~$100 or more each month, while a basic plan for Netflix costs only ~$8 each month.
As the chart above indicates, Hulu's online television service is expected to be $35 per month, the same as YouTube's YouTube TV. Because these two services will be the same price, it remains to be seen which will be a more compelling streaming service for viewers.
Article continues below advertisement
Netflix's view of online television services
Netflix stated in its 1Q17 earnings letter to shareholders that it believes skinny bundles such as DISH Network's (DISH) Sling TV are more likely to feel the heat from the competition of online television services such as Hulu and YouTube TV. According to Netflix, online television services could be more appealing to viewers who are moving away from pay-TV subscriptions.
Netflix believes that its streaming service is complementary to pay-TV viewing. It says it's increasingly focusing on "on-demand, commercial free viewing rather than live, ad-supported programming."