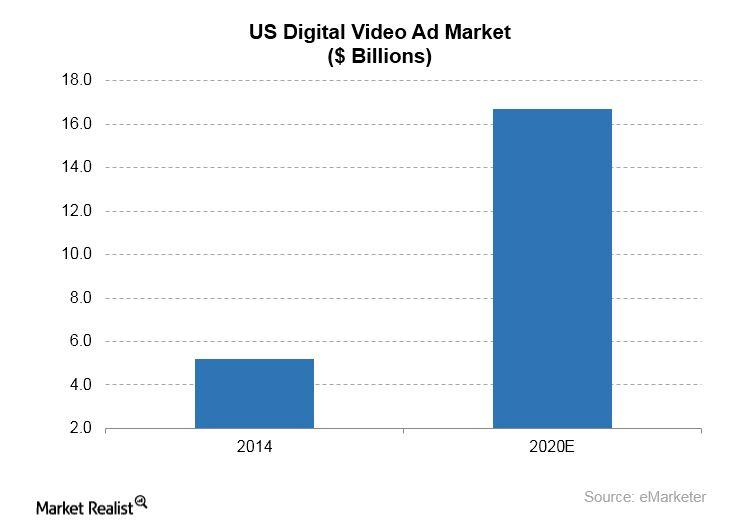 How Much Facebook Is Earning from Video Ads
By Ruchi Gupta

Apr. 17 2017, Updated 9:05 a.m. ET
Video ad break test expanded
As Facebook (FB) works to grow its video revenue, it's inserting more ads into videos shared on the site. It has expanded its ad break test available to US (SPY) publishers. It now includes any account with at least 2,000 followers that has recently reached 300 viewers with a live video stream. Facebook's video ad break test was initially only available to a small group of publishers.
Article continues below advertisement
Facebook is giving away 55% and keeping 45%
So what's Facebook getting from its video ads? Facebook is just beginning to build its video business. So it has come up with a revenue sharing plan that could help it attract more video publishers to its platform. That could come at the expense of rivals such as YouTube by Alphabet (GOOGL), Periscope by Twitter (TWTR), and Snapchat by Snap (SNAP).
Facebook gives publishers 55.0% of the ad revenue generated by its videos, and it keeps 45.0%. According to eMarketer, the US digital video advertising market is forecast to grow to $16.7 billion by 2020, from $5.2 billion in 2014.
Mid-roll ads instead of pre-load ads
Facebook's strategy of using mid-roll ads rather than pre-load ads is a way to increase ad views. YouTube mainly uses pre-load ads. The more ads viewed, the more money Facebook video publishers make from their content.
Facebook is inserting ads in videos after they've streamed for at least 20 seconds. The ads are supposed to be spread at least two minutes apart. The video ad break test is available to publishers of live and regular on-demand clips.