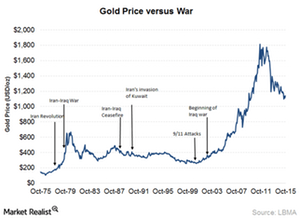 How Geopolitical Risks Affect Gold and the Dollar
By Meera Shawn

Updated
Russian tension
In this series, we'll study the impact of geopolitical risk on precious metals. We'll examine their relative movement to volatility, equities, and the US dollar on Tuesday, April 11, 2017. The uncertainty in the global markets increased for several reasons on April 11, including the increasing tension during the meeting between the US and Russian governments.
According to the U.S. Department of State, Secretary of State Rex Tillerson has cautioned that Russia must side either with the US or the Assad regime in Syria. However, the relationship between the two powers still seems strained as the US seeks stability from Russia regarding Syria. On April 12, Russia vetoed a resolution by the UN Security Council to condemn Syria's use of chemical weapons.
Article continues below advertisement
North Korean worries
Tensions are flooding from North Korea, as its state media warned that it would reply with a nuclear attack at the first sign of American aggression. So far, China is acting as a check on North Korea's military threats in an effort to maintain stability on the Korean peninsula.
In an April 12 phone call, China's president, Xi Jinping, told President Donald Trump that Beijing preferred peaceful means in working with the US to end North Korea's nuclear weapons program.
According to CNN, Alexander Neill, a senior fellow at the International Institute for Strategic Studies in Singapore, noted, "I think at this point the common interests between the US and China outweigh (North Korea saber-rattling). China may be prepared to do some sort of tradeoff. … They want to rein in (leader) Kim Jong Un."
In his phone call with Trump, Xi stressed that China seeks calm and stability in the region. The US Navy ordered the Carl Vinson strike group to reposition to the area in advance of the largest-ever military drills between the US and South Korea. Japan is expected to join the joint exercise in the East China Sea.
Metals get a boost
The tumult that surfaced on April 11, 2017, gave a positive kick to precious metals, their funds, and miners. Gold, silver, platinum, and palladium rose 1.6%, 1.9%, 2.9%, and 1.7%, respectively.
The iShares Gold Trust ETF (IAU) and the iShares Silver Trust ETF (SLV) rose 1.5% and 1.8%, respectively. Among the miners, Newmont Mining (NEM), New Gold (NGD), Sibanye Gold (SBGL), and Gold Fields (GFI) also witnessed a rise in their stock prices. These four stocks rose 1.5%, 6.6%, 3.7%, and 3.0%, respectively.
In our next article, we'll look at the relative performance of gold and the world stock markets.