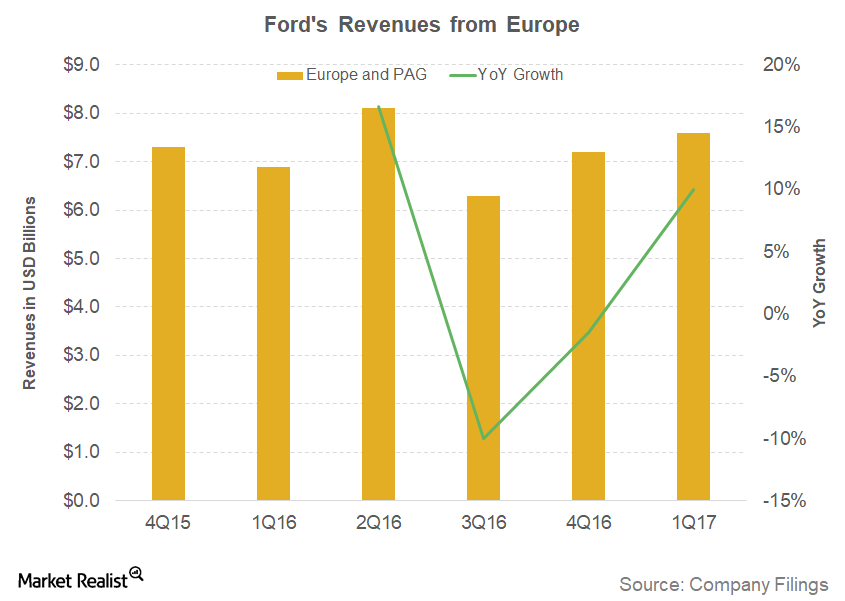 How Europe Drove Ford's Revenues Higher in 1Q17
Ford's 1Q17 revenues
In the previous part of this series, we looked at Ford Motor Company's (F) revenues from North America. Revenues from its largest market rose marginally despite a lower sales volume due to higher truck sales. Let's find out how Ford's revenues shaped up in Europe.
Article continues below advertisement
Solid recovery in Europe
In terms of revenues, Europe is the second-largest market for Ford after North America. In 1Q17, Ford's revenues from Europe rose 10.0% to $7.6 billion from $6.9 billion in the corresponding quarter of the previous year.
Previously, in 4Q16, Ford's revenues from Europe fell 2.0% to $7.2 billion from $7.3 billion in 4Q15. So on a quarter-over-quarter basis, the company's performance has significantly improved in the region.
Ray of hope for Ford?
During its 1Q17 earnings conference call, Ford's management reiterated that they expect to deliver continued strong profitability from Europe in 2017. However, they also warned investors that its 2017 Europe profitability could be lower than the 2016 levels.
According to management, higher costs related to the launch of new vehicles, including the Fiesta and the EcoSport could negatively affect margins in 2017.
Also, a strengthening US dollar against the British pound continued to be a worry for the company's European division.
A rising US dollar is hurting the profitability of US automakers (IYK), including General Motors (GM) and Ford. European and Japanese automakers such as Fiat Chrysler Automobiles (FCAU) and Toyota (TM) are likely to benefit from a stronger US dollar and their weak home market currencies.
Next, we'll look at Ford's 1Q17 performance in its other key markets.