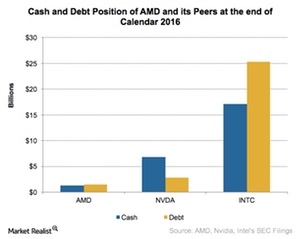 How Does AMD Plan to Deleverage Its Balance Sheet?
By Puja Tayal

Apr. 24 2017, Updated 10:35 a.m. ET
AMD deleverages its balance sheet
In the previous part of the series, we learned that Advanced Micro Devices (AMD) is making efforts to improve its operating margins in order to pay off its debt. 
AMD has infused cash into its cash-strapped balance sheet by selling off its non-strategic businesses. The company has also restructured its debt to increase its financial flexibility to invest in new products.
All these efforts have helped AMD to deleverage its balance sheet, improve its cash reserves, and reduce its interest burden.
Article continues below advertisement
Moody's improves AMD's credit rating
Moody's revised AMD's credit rating upward from Caa1 to B3, indicating an improvement in the company's corporate debt securities. AMD improved its cash reserves from $785 million in fiscal 2015 to $1.3 billion in fiscal 2016 while reducing its long-term debt from $2 billion to $1.4 billion.
AMD reduced its debt by replacing high-cost debt securities with low-cost convertible notes and raising cash by issuing shares. It also increased its cash reserves by $342 million, which it received from an ATMP (assembly, test, mark, and pack) joint venture with China's (MCHI) Tianjin Haiguang Advanced Technology Investment.
Moody's will conduct another forensic balance sheet analysis in the next few quarters, indicating that AMD's debt profile could continue to improve.
Peer comparison
At the end of 4Q16, AMD had a net debt position of ~$170 million, whereas NVIDIA (NVDA) had a net cash position of ~$4 billion. 
Intel (INTC) has a net debt position of ~$8 billion, and this debt is likely to rise further after it acquires Mobileye (MBLY). Despite its high leverage, Intel has high credit ratings.
Article continues below advertisement
How does AMD plan to improve its debt ratings?
Apart from reducing its debt, AMD will likely improve its debt ratings by reducing its operating expenses as a percentage of its revenue and expanding its gross margin via richer product mixes and better utilization of Global Foundries' fabrication facilities. 
Once AMD improves its revenue and margins to a sustainable level, it could restructure its debt further by swapping high-interest debt with low-interest debt.
How will AMD benefit from an improved credit rating?
AMD will benefit from an improved Moody's rating because an improved rating will allow it to take on debt at lower interest rates. Lower interest rates will likely encourage AMD to restructure its debt and reduce its interest costs further. 
As a result, AMD's WACC (weighted average cost of capital) should fall. Its WACC is currently 21.3%, and a fall would make it more comparable to Intel's and NVIDIA's WACCs of 10.6% and 8.4%, respectively.
AMD is also looking to improve its cash flows by entering into the licensing business. We'll look into this in the next part of the series.