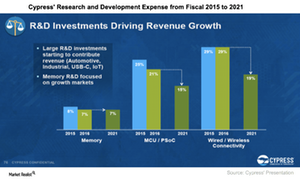 How Cypress Streamlined Operations Using Market Approach
Cypress shifts focus from product to market
Cypress Semiconductor (CY) is reducing its manufacturing footprint. Instead, it's improving fab utilization and optimizing its portfolio to improve its gross margin. It's also streamlining its marketing and R&D (research and development) efforts to improve operating margins and cash flows, even in the challenging economic environment.
Cypress 2.0 had a product-based approach in which it focused on developing advanced technology. The company's new chief executive officer Hassane El-Khoury has shifted to a market approach in which he takes the technology to growth markets and puts it into implementation. This restructuring saw the removal of several product lines and reduced four business divisions to two.
Article continues below advertisement
Cypress's new corporate structure
Cypress has combined its programmable and connectivity divisions into a single MCD (Microcontroller and Connectivity Division) as it looks to sell MCUs (microcontroller units) alongside radio to automotive and industrial customers. Creating a single division for both products streamlines its process from the design stage all the way to the sales stage.
That could help Cypress leverage its portfolio and technology road map and align it with customer requirements. The company doesn't plan to reduce its operating expenses but instead plans to get higher returns from its operations.
Refocusing on R&D 
At the company's 2017 analyst day, El-Khoury explained how Cypress is implementing its market approach in R&D. In the traditional product-based approach, the company focused on developing the next generation memory on the advanced node that delivers lower power and higher performance. But this approach doesn't work with its BoM (bill of materials) strategy in which it tries to increase the semiconductor content per device.
Article continues below advertisement
That requires a market approach in which the company doesn't need advanced node but rather a memory it can package with its MCU, analog, and radio to deliver a complete embedded solution. In the new 3.0 model, the company scrapped R&D projects for advanced memories and channeled those efforts to MCUs, advanced IoT (Internet of Things), and another USB-C (Universal Serial Bus Type C).
Instead of reducing R&D costs, Cypress reallocated that cost on higher return projects. A similar strategy has been adopted by Marvell Technology (MRVL) where its new chief executive officer is streamlining its R&D efforts in key growth areas and eliminating non-core products.
R&D investments over the next five years
Cypress's R&D expense stood at about 15.0% of its total revenue in fiscal 2016. It plans to maintain that ratio over the long term. The company's R&D spending as a percentage of revenue in memory, MCU, and connectivity is expected to fall over the next five years as its huge investments start paying off. Automotive design wins would convert to revenue in three years, and industrial design wins would convert to revenue in two years.
All the above would increase Cypress's operating margin in the long term. We'll look at that in the next part.