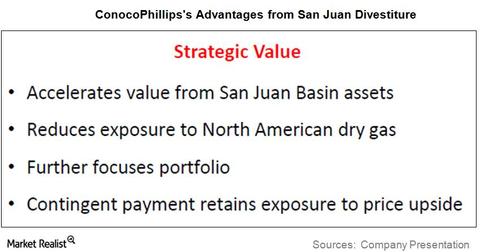 How ConocoPhillips Will Benefit from San Juan Divestiture
By Nicholas Chapman

Apr. 18 2017, Published 8:26 a.m. ET
Acceleration of value proposition
On April 13, 2017, ConocoPhillips (COP) announced a $3 billion San Juan asset divestiture deal with an affiliate of Hilcorp Energy. The biggest advantage for ConocoPhillips is that this deal accelerates the value of the San Juan Basin assets, which in turn will help COP achieve acceleration of its value proposition. For fiscal 2016, COP's operating cash flow from the San Juan assets was only $200 million. However, the San Juan asset sale will give much needed financial flexibility to COP in terms of debt reduction and shareholder returns by means of an enhanced share repurchase program.
Article continues below advertisement
COP is planning to reduce its outstanding debt load of $27 billion to $20 billion and double its share repurchase program to $6 billion from the existing $3 billion. The San Juan transaction will also bring down COP's cost of supply and operating costs, which we'll study in part four and five of this series.
While commenting on the benefits of the San Juan Basin divestiture, ConocoPhillips's chair and CEO, Ryan Lance, said, "Including our recently announced Canadian asset sales, we have line of sight to more than $16 billion of total considerations in 2017. These transactions will materially reduce our exposure to North American gas and achieve an immediate step change improvement in our balance sheet and cash margins, while accelerating our return of cash to shareholders. Our company will be more focused, far stronger financially, and well positioned to execute our disciplined, returns-focused value proposition."
Retained exposure to natural gas price upside
Another benefit for COP is that it will retain exposure to Henry Hub natural gas (UNG) price upside. COP will receive contingent payment of $7 million per month for six years whenever the average monthly Henry Hub price moves above $3.20 per MMBtu (million British thermal units). COP will receive these contingent payments for six years with a cumulative cap of $300 million.
Other oil and gas producers
In 2016, Devon Energy (DVN) completed its non-core asset divestiture program where DVN sold its non-core upstream assets for proceeds totaling $3.2 billion. In 2016, Southwestern Energy (SWN) also sold its Marcellus Shale acreage to Antero Resources (AR) for ~$450 million. Both DVN and SWN used the divestiture proceeds for operational purposes and to reduce debt.