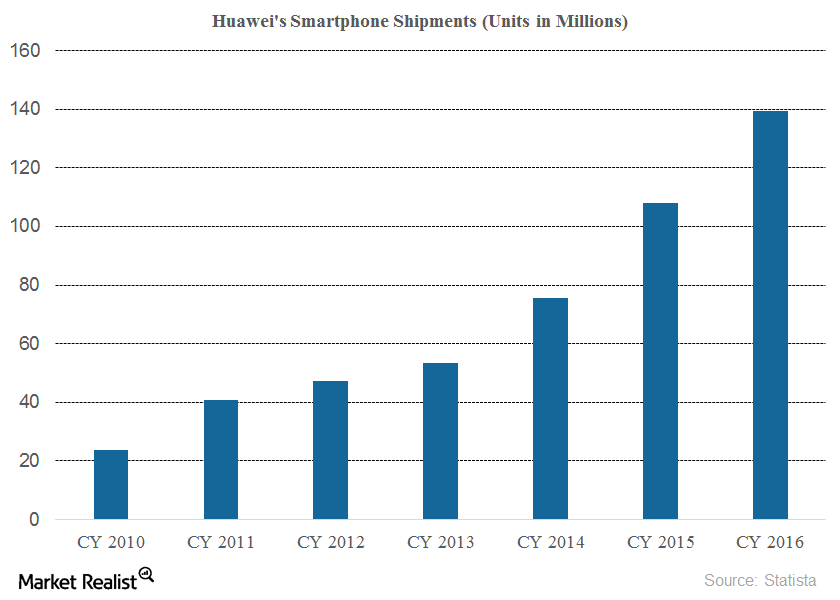 How China's Domestic Manufacturers Are Gaining Ground
The fifth-largest smartphone maker in China
According to market research company Canalys, Apple (AAPL) is currently the fifth-largest smartphone manufacturer in China (FXI), after Huawei, Oppo, Vivo, and Xiaomi. Apple's shipments in China fell 18.2% YoY (year-over-year) to 43.8 million units.
Huawei led the market with shipments of 76.2 million units last year, followed by Oppo, Vivo, and Xiaomi at 73.2 million units, 63.2 million units, and 51.4 million units, respectively.
Article continues below advertisement
Huawei's growth in smartphone shipments
As we can see in the chart above, Huawei's smartphone shipments have risen quickly. Huawei shipped 53.3 million units globally in 2013. This figure rose to 75.4 million units in 2014, 108 million units in 2015, and 139.3 million units in 2016. Huawei now accounts for 10% of the global smartphone market.
While smartphone shipments rose 2.3% YoY in 2016, Huawei's shipments rose 30.2% YoY. In the previous part of this series, we saw how Huawei was capturing tablet market share, with its global shipments rising 50% YoY compared to a fall of 15% in 2016.
The price of an average iPhone is a major deterrent for Chinese customers. While the iPhone 7 costs $780, the iPhone SE is priced at $476. In comparison, Chinese smartphones with similar features are available for one-third of the price.
Duan Yongping, the founder of Vivo and Oppo, said, "Apple couldn't beat us in China because even they have flaws. They're maybe too stubborn sometimes. They made a lot of great things, like their operating system, but we surpass them in other areas."