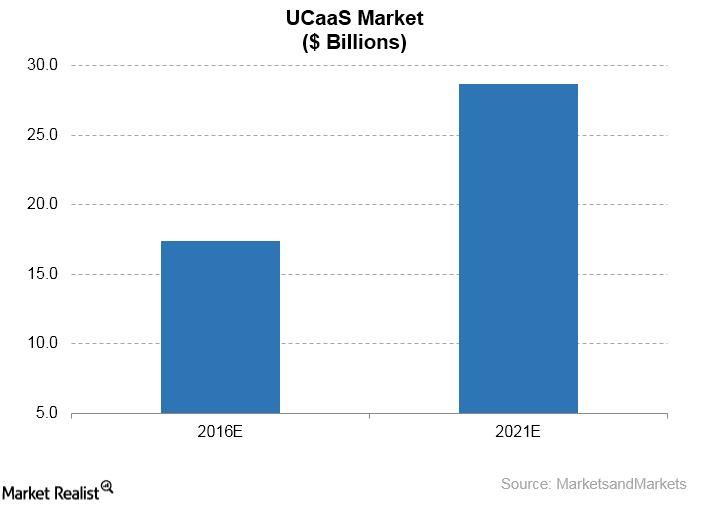 How Amazon Chime Could Steal Share from Microsoft's Skype
Amazon Chime is pursuing workplace collaboration spending
Amazon (AMZN) launched Amazon Chime to pursue enterprise spending on cloud-delivered workplace collaboration tools. But the market is already crowded with heavyweights such as Skype for Business from Microsoft (MSFT) and WebEx from Cisco Systems (CSCO). Other providers in the space are LogMeIn (LOGM) and Box (BOX).
Does Amazon Chime stand any chance of success in such a crowded market? Amazon is late to the UCaaS (Unified Communications as a Service) market. But Amazon Chime could still carve out a significant share of the market. The UCaaS market is projected to grow to $28.7 billion by 2021 compared to $17.4 billion in 2016, according to research firm MarketsandMarkets and as shown in the above graph.
Article continues below advertisement
Riding on the AWS influence
How can Amazon turn the tables on rivals in the UCaaS market? The company's best bet is riding on the influence of AWS (Amazon Web Services), its cloud computing division.
AWS dominates the cloud infrastructure market. It's used by large corporations and start-ups to run their software and apps (applications). It allows them to operate more efficiently since they're able to lower the cost of setting up and running their own data centers. In that position, Amazon has a large pool of potential customers to target with Amazon Chime. The company could easily pitch it to AWS customers who currently use rival workplace collaboration tools such as Skype or WebEx.
Free trial for pro service
Amazon's 30-day free trial of Amazon Chime Pro, which can connect up to 100 people in a meeting, gives the company an edge with customers of rival services.
Competitive pricing could also help Amazon grab a share from its competition. Paid versions of Amazon Chime are available for $2.50–$10 per user per month. Cisco's WebEx costs $69 per host per month, and Skype for Business starts at $5 per month.