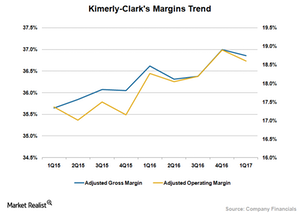 Here's What Drove Kimberly-Clark's Margins in 1Q17
Margins benefitted from cost savings
Kimberly-Clark (KMB) has been generating strong margins through its FORCE (Focused on Reducing Costs Everywhere) program. It generated about $110.0 million in cost savings in 1Q17 and remains on track to save about $400.0 million in 2017. Despite soft sales, the company managed to expand margins in the past five quarters, as you can see in the graph below.
Article continues below advertisement
1Q17 margins
In 1Q17, Kimberly-Clark's gross margin stood at 36.9%, a rise of about 23 basis points compared to 1Q16. The rate of margin improvement slowed down a bit in 1Q17 due to increased input costs. Its operating margin came in at 18.6% in 1Q17, a rise of about 33 basis points YoY (year-over-year), reflecting a higher gross margin and reduced marketing, research, and general expenses as a percentage of sales.
As sales remain hard to come by, consumer product companies are relying on lowering costs and generating productivity savings to boost margins. KMB's peer Procter & Gamble (PG) embarked on a restructuring plan to reduce costs and generate strong margins. Clorox (CLX) and Colgate-Palmolive (CL) have also taken initiatives to generate productivity savings and reduce costs.
Outlook
KMB management remains upbeat and continues to expect strong cost savings from its restructuring initiative, which will boost the company's margins in the coming quarters. However, lower net selling prices, tepid category growth, and increased input costs will continue to remain a drag. The company now believes that inflation could increase input costs by $150.0 million–$250.0 million, a rise from its earlier forecast of $50.0 million–$200.0 million in 2017.