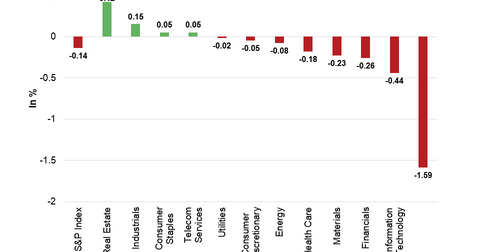 Geopolitical Concerns Weigh on the S&P 500, NASDAQ, and Dow
By Val Kensington

Apr. 12 2017, Published 8:03 a.m. ET
S&P 500
After starting the week on a stable note, the S&P 500 fell on Tuesday. The lower risk appetite increased the demand for safe-haven assets. On April 11, gold rose to the highest levels since the first week in November 2016.
Article continues below advertisement
Geopolitical concerns
Last week, the US attacked Syrian airfields in response to Syria using banned chemical weapons. White House officials concluded that Syria used sarin gas. Trump's Administration also accused Russia of trying to cover up Syria's chemical weapon attacks. Last week, Russia supported Syria's president, Bashar Assad. Russia said that there wasn't any evidence of chemical attacks and blamed Syrian rebels. Recent events increased the importance of US Secretary of State Rex Tillerson's trip to Moscow. Tillerson is expected to meet President Putin to discuss Russia's support of President Assad. Chinese President Xi Jinping spoke to President Trump. He emphasized that the use of chemical weapons isn't acceptable.
Lack of clarity on fiscal policies
The lack of clarity on President Trump's fiscal policies is weighing on the market. It increased market uncertainty and supported safe-haven assets. Stocks related to the financials, materials, and information technology sectors fell on Tuesday and weighed on the market. The market is looking forward to the release of private non-farm payrolls and unemployment rate data scheduled to release later this week. The data will help the market gauge the economy's strength. The market is also focused on FOMC member Kaplan's speech scheduled at 10:00 AM EST today.
On Tuesday, the NASDAQ Composite Index fell and recovered at the end of the day. President Trump tweeted about North Korea and impacted the market. He stated that the US is going to solve the problem with or without China' help. The NASDAQ Composite Index fell 0.24% on April 11 and closed the day at 5,866.77. The Dow Jones Industrial Average closed at 20,651.3—a fall of 0.03% or 6.72 points. The SPDR S&P 500 ETF (SPY) fell 0.12% on April 11.