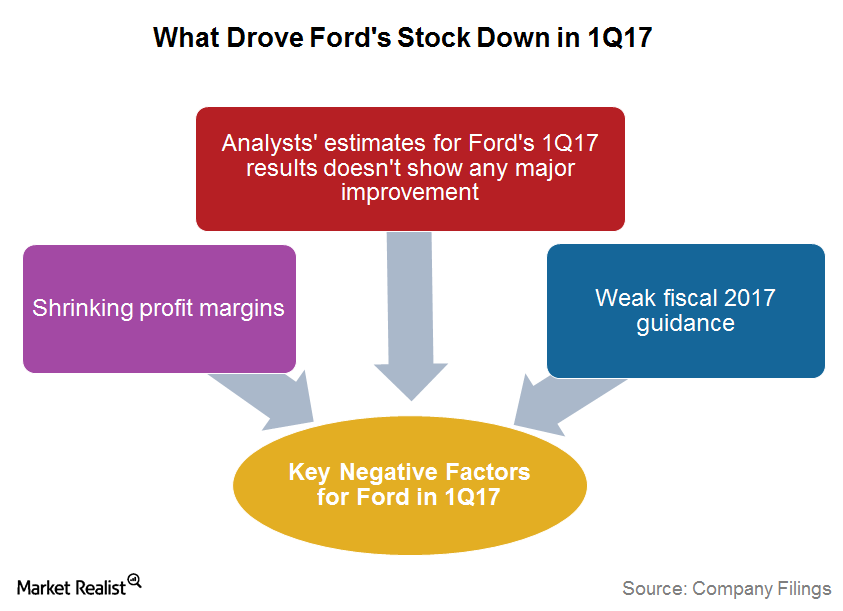 Ford Stock Underperformed Peers for 3rd Consecutive Quarter
Ford stock
Article continues below advertisement
Negative movement continues
In the final quarter of 2016, Ford's deteriorating profitability and stagnation in its home market sales were key concerns. In 4Q16, Ford's adjusted EPS (earnings per share) stood at $0.30, about 55% lower than the company's adjusted earnings of $0.58 per share in 4Q15. These EPS readings were also worse than Wall Street analysts' EPS estimates of $0.33 for 4Q16.
During the 4Q16 earnings call, Ford's management didn't seem very confident about the company's financial outlook this year, as it warned investors of potential risks. This could be why Ford's stock continued to underperform in 1Q17.
What's next?
According to Wall Street analyst estimates, weakness in Ford's 1Q17 earnings is likely to continue. As the company's struggle to improve its profitability continues, its stock could continue to be weak.
As of March 31, Ford stock is trading at $11.64. Weakening underlying momentum suggests that the stock price could fall further to test a support near the 52-week low of $11.07 in the coming weeks. A strong resistance lies near the $12.15 level.
Continue to the next part where we'll take a look at Fiat Chrysler's updates in 1Q17 and expectations from its stock in 2Q17.