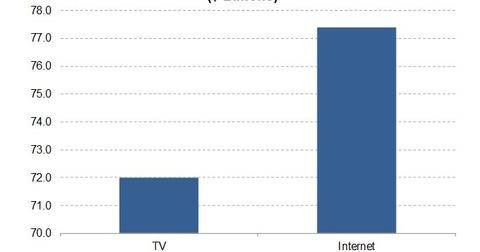 Facebook Counters Snapchat Threat in 2017
By Neha Gupta

Updated
Impact of Snap on Facebook in focus in 1Q17 report
Facebook (FB) is set to release its first quarterly earnings results since its rival Snap's (SNAP) highly publicized IPO[1. initial public offering] that valued it at ~$24 billion. Facebook's 1Q17 report and conference call to discuss its results are scheduled to occur on May 3, 2017. Investors should be looking for the impact Snap is having on Facebook's advertising business and how Facebook is countering the Snapchat threat.
Needham & Company analyst Laura Martin wrote in a research report in March that Snapchat is replacing Twitter (TWTR) as marketers' second-most-preferred advertising platform. 
Article continues below advertisement
Sir Martin Sorrell, the CEO of advertising and public relations company WPP, appeared to confirm the threat that Snapchat poses to rivals like Twitter and Facebook. In early April, he noted during a CNBC interview that marketers are showing a willingness to buy ads on platforms like Snapchat and Verizon-owned (VZ) AOL.
Marketers drifting to Snapchat
Online advertising spending this year in the US (SPY) alone is projected to hit $77.4 billion, as illustrated in the chart above. Although the online advertising market is growing, the trend of marketers increasing their advertising on Snapchat could hurt Facebook's top line. 
Using Snapchat to beat Snapchat?
Facebook has recently resorted to duplicating Snapchat features in its own products in what could be considered an attempt to blunt the competitive edge of its rival. After adding Snapchat-like features to its mobile apps Instagram and WhatsApp, Facebook recently announced three more Snapchat-like features on its flagship app. By adding these features to its own products, Facebook seems to be hoping to make it difficult for Snap to steal its subscribers.