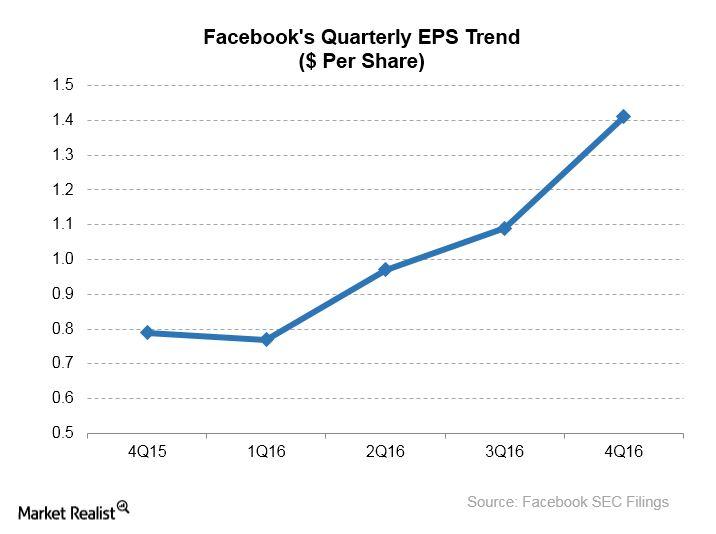 Facebook and Sports Leagues: Who Needs the Other More?
By Ruchi Gupta

Apr. 17 2017, Updated 7:35 a.m. ET
Facebook seeking deal for MLB content
Facebook (FB) is in talks with MLB (Major League Baseball) to live-stream certain games on its social network, according to a Reuters report. The company has also recently inked a deal to live-stream about two dozen regular season MLS (Major League Soccer) matches.
The moves show Facebook's growing interest in live sports content. Last year, Facebook lost to Twitter (TWTR) a deal to live-stream NFL (National Football League) games on social media.
Article continues below advertisement
Improving platform engagement
Live sports have a large audience that Facebook could tap to improve user engagement on its social network. It could also attract more Internet ad spending on its platform to help grow its revenues and profits.
Facebook posted EPS (earnings per share) of $1.41 in 4Q16, a significant rise from $0.79 in 4Q15. The above graph shows Facebook's quarterly EPS trend. The company is facing competition from Twitter, Snap (SNAP), Microsoft's (MSFT) LinkedIn, and Alphabet's (GOOGL) Google for online advertising. Adding live sports could help Facebook fend off some of its competition.
Unlocking new revenue streams
Sports leagues see platforms such as Facebook and Twitter as opportunities to help them generate additional revenue. That revenue would add to their revenues for sports rights to television networks and ticketing. But the problem for sports leagues is that licensing game content to Internet companies such as Facebook would antagonize their television network partners, who remain a major source of income. Pay-TV companies sign multiyear contracts and pay billions of dollars to license sports content.
Looking at the motivation for each group, it goes without saying that social media companies and sports leagues may equally need each other.