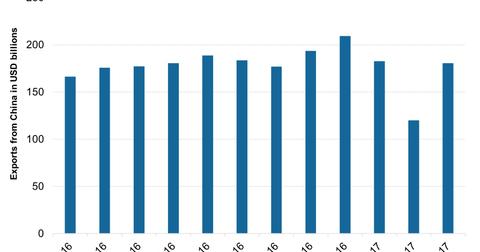 Exports Recover as China Shifts Its Base in 2017
By Mary Sadler

Updated
Structural change in China
China is currently in a transitional phase of moving to a consumption-based economy. The country intends to shift its focus from exports to a steadier demand-driven growth in 2017. The chart below shows its exports over the last year.
Article continues below advertisement
Industry performance
Chinese exports in US dollar terms fell 7.7% in 2016 compared to 2015, making it the worst decline since 2009. Imports fell 5.5% in 2016, resulting in a trade surplus of ~$510.0 billion in 2016. In yuan terms, China's exports fell 2.0% in 2016 compared to 2015, and its imports increased 0.6%.
As we can see in the chart above, exports from China totaled $180.6 billion, an increase of 16.4% year-over-year in March 2017. In 1Q17, exports rose 8.2% compared to 1Q16. Analysts usually look at January and February together to mitigate the impact of the two-week Chinese New Year holiday, which typically begins on a different date each year.
Weak global demand affected China's economic growth in 2016. China's efforts to foster self-sustaining economic growth based on consumer spending, as opposed to trade and investment, is in a transitional phase. China's administration would need to keep the country's exports steady to avoid job losses in its industries, which has been a major contributor to its growth in the last decade.
The gradual shift is expected to prevent job losses and keep unemployment under its target rate. As China moves from manufacturing-led growth to a domestic demand-driven economy, the task of repositioning its vast employment numbers from the manufacturing base poses a significant challenge to China's administration. China's export growth is also expected to be limited if President Donald Trump continues his protectionist stance.
Economic impact
The slowdown in exports and imports is expected to impact funds that hold stock in companies with major revenues from exports. Some of these funds include the Clough China Fund – Class A (CHNAX), the iShares China Large-Cap ETF (FXI), the Guinness Atkinson China & Hong Kong ETF (ICHKX), and the Deutsche X-Trackers Harvest CSI 300 China A-Shares ETF (ASHR).
The major holdings of these funds include China Mobile (CHL), CNOOC Limited (CEO), PetroChina (PTR), and China Petroleum & Chemical (SNP).
For more information on China's market outlook in 2017, please check out Market Realist's Analyzing China's Stock Market and Expectations for 2017.