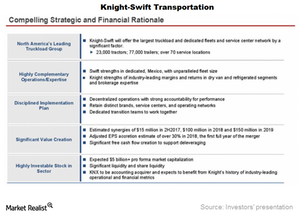 Exploring the Rationale behind the Knight-Swift Deal
By Samuel Prince

Updated
Largest truckload carrier in North America
The combination of Swift Transportation (SWFT) and Knight Transportation (KNX) will likely result in the largest truckload company in North America. The new entity will have dedicated fleet and service center networks spread across the United States.
Article continues below advertisement
The deal's rationale
As discussed, Knight Transportation has earned a name for itself as one of the most efficient truckload motor carriers in the United States. The Knight-Swift combination anticipates adopting a cross-functional team to realize substantial synergies across both brands. Both companies expect synergies from sharing their best practices, yield improvements, and economies in material sourcing. In addition, Knight Transportation will see a wider geographic scale.
Swift Transportation has relative strength in its Dedicated segment and a significant presence in Mexico. The company also has the backup of a robust fleet size. Knight Transportation relies on its best-in-class operating margins in addition to its superior returns in the dry van and refrigerated sector. It also has brokerage expertise, which will be leveraged by the new entity.
Knight-Swift Transportation is expected to operate with 23,000 tractors, 77,000 trailers, and over 70 service locations in 30 states, along with three locations throughout Mexico.
Article continues below advertisement
Further logic
Swift and Knight Transportation have forward positioning in the logistics market. This positioning, in turn, aligns with their shortening supply chains. The combined entity will have nearly all major driver domiciles.
Note that driver domiciles play an important role in driver retention. The nearness of service locations to major populated centers should also result in more efficient service offerings.
Related ETFs 
Remember, transportation and logistics companies make up part of the industrial sector. Major railroad companies (UNP) and airlines (DAL) in the United States represent 6.2% and 4.8% of the iShares US Industrials ETF (IYJ), respectively.
In the last article, we'll take a closer look at the merger's potential synergies.