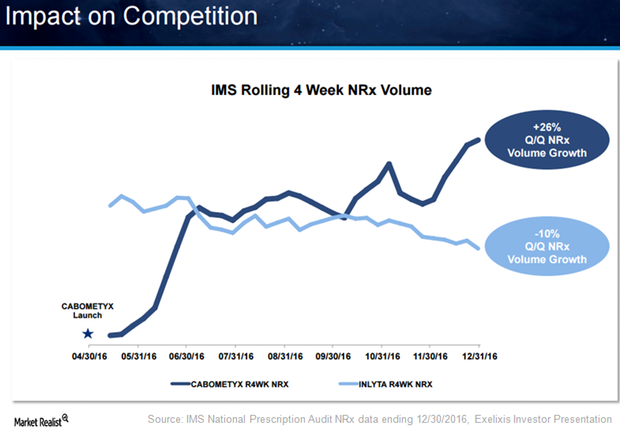 Exelixis's Tough Competition in Renal Cell Carcinoma
The Cabometyx marketing strategy
After the launch of Cabometyx in the US in 2Q16 as second-line advanced RCC (renal cell carcinoma) therapy, Exelixis (EXEL) has focused its attention on promoting the drug to thought leaders and clinicians who have treated a significant number of RCC patients. By identifying and focusing more on a few high volume prescribers instead of a large number of low volume prescribers in the mature RCC market, Exelixis has managed to boost the adoption of Cabometyx in US markets in a short span of time.

Article continues below advertisement
After these early promotional efforts, Exelixis actively marketed Cabometyx to community oncology practices for driving additional demand for Cabometyx. Out of the total prescriber base growth for Cabometyx in 4Q16 as compared to 3Q16, around 70% was due to the increased adoption of the drug by community oncologists.
This indicates that Exelixis's marketing efforts have succeeded in creating confidence for Cabometyx, both in KOLs (key opinion leaders) in the RCC segment as well as in oncologists prescribing the drug.
Notably, the PowerShares DWA Momentum Portfolio (PDP) has about 2.1% of its total portfolio holdings in Exelixis.
Competition dynamics
While Cabometyx witnessed 26% sequential rise in NRx (new patient prescriptions) in advanced RCC indications in 4Q16, Pfizer's (PFE) Inlyta saw a 10% drop in NRx during the same period. In 4Q16, Inlyta also saw a YoY (year-over-year) drop in revenues of around 38%. As the drug is only approved as an RCC indication, this figure highlights the impact of the launch of Cabometyx.
Cabometyx is also gradually capturing an advanced RCC market share from existing therapies like Pfizer's Sutent, Novartis' (NVS) Afinitor, and Eisai's Lenvima, due to its solid clinical profile. Cabometyx is also posing tough competition to Bristol-Myers Squibb's (BMY) Opdivo in the second-line RCC segment.
In the next part, we'll explore the growth strategy for Exelixis's Cabometyx.