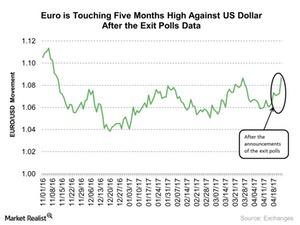 Euro Jumps to 5-Month High after French Exit Polls
By Sarah Sands

Nov. 20 2020, Updated 3:59 p.m. ET
The euro's jump
The health of a country's currency largely reflects its economy. For this reason, during important events in an economy, it's crucial for investors to keep an eye on a country's currency because it speaks volumes about the current economic situation.
When the currency shows a stronger move against various other currencies, this indicates that that country's economy is also showing a stronger move. And in Europe, economic health is improving gradually.
On Sunday, after the announcement of the French Presidential election exit polls, the euro (FXE) jumped a near five-month high against the US dollar (UUP) (UDN) (UDUP), rising to $1.0939 as compared to the previous close of $1.0726.
Article continues below advertisement
What the exit polls suggest
As we discussed in part 1, the independent candidate Emmanuel Macron received the highest percentage of votes in the first round of France's election, while National Front party candidate Marine Le Pen got the second most votes. Le Pen's platform has some similarities with US (SPY) (QQQ) President Donald Trump, campaigning for a "France first" in every aspect. Le Pen has also promised that if she's be elected, she'll stop the inflow of illegal immigrants, lower the retirement age, and hold a referendum for a potential exit from the European Union (VGK) (EZU).
If Le Pen wins the next and final round of elections on May 7, 2017, and if France votes to leave the EU, other member nations might follow suit, which would be mean an uncertain environment for the future of the Eurozone. But Emmanuel Macron's higher percentage of votes in round one has so far met the market expectations.
In the next part of this series, we'll take a closer look at the impact of the exit polls on market movements.