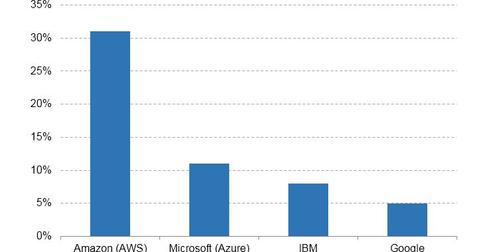 Does Google's Cloud Spanner Make Oracle's Cloud Push Vulnerable?
By Ruchi Gupta

Updated
Google opens up Spanner to the world
Early this year, Alphabet's (GOOGL) Google introduced Cloud Spanner, its cloud database offering. Spanner was unveiled in 2012, but it was limited to internal use, helping Google keep its sprawling global online operations running smoothly. Google products and services that rely on Spanner database technology include AdWords, Gmail, and Google Photos.
With Cloud Spanner, Google has launched one of its most powerful products that it's tested and strengthened internally for years. While Cloud Spanner expands the possibilities for Google Cloud customers, it's a competitive weapon, and Google is aiming it at cloud rivals Oracle (ORCL) and Microsoft (MSFT).
Article continues below advertisement
Challenging Oracle's database standing
Long before the advent of cloud computing, Oracle made a name for itself as a database provider. It's sought to continue dominating the database industry in the cloud, but rival products such as the Cloud Spanner seem to have brought to light the vulnerabilities of its cloud aspirations.
If there were Google Cloud customers who still maintained a presence on Oracle's cloud due to the database technology, Cloud Spanner could entice them to bring all their cloud operations to Google's cloud. Such an exodus would see Oracle suffering not only cloud customer outflow but also cloud revenue loss.
Additionally, Google's Cloud Spanner is set to heat up the competition for enterprise cloud customers, limiting growth opportunities for not just Oracle, but cloud providers such as Amazon (AMZN) and IBM (IBM), which are also keen to expand their shares of enterprise cloud software spending.
A powerful reference base
Google recently disclosed the large corporations that have adopted its cloud, showing that it's steadily building a powerful reference base for its cloud business.