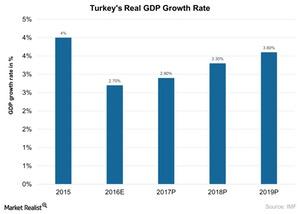 Did IMF Slash Turkey's Growth Outlook amid Political Tensions?
By Mary Sadler

Apr. 24 2017, Updated 7:39 a.m. ET
Growth outlook for Turkey
Political uncertainty, a fall in tourism, weak corporate profitability, and credit growth are expected to impact Turkey's (TUR) economic growth in 2017. These developments are not only expected to impact Turkey's fragile domestic environment but also its stability at a regional level (GAF) (GULF).
Let's look at GDP growth in Turkey as provided in the Economic Outlook Report of the International Monetary Fund (or IMF).
Article continues below advertisement
GDP growth in 2016
After robust growth in 1Q16, expansion has slowed in Turkey. Growth is projected at 2.7% for 2016 and 2.9% for 2017 with substantial downward risks, according to the IMF report. A failed coup attempt in July increased political uncertainty, and Russian (ERUS) sanctions have also negatively affected the market's confidence in the country. Its GDP growth was mostly driven by domestic consumption in 2016.
The factors that impacted Turkey's growth in 2016 included the following:
weak investment amid increased uncertainty and a sharp reduction in credit growth
moderated inflation that remained above the target estimate
high current account deficit as a fall in tourism offset savings from low energy prices
slow structural reforms amid political uncertainty
Growth expectations post-presidential referendum
Turkey's economic growth is projected to be below potential for 2017, according to the IMF. Many factors are likely to impact the country's growth in 2017–2018, including its transition to a presidential system, the future of EU-Turkey (FEZ) (TUR) relations, a tense security situation in the country's southeast region, and conflicts in neighboring nations. According to IMF forecasts, Turkey's current account deficit in 2017 is expected to rise from 4.4% to 5.6%, with real GDP growth falling from 3.3% in 2016 to 2.9% in 2017.
Let's look at the current account deficit, which is likely to impact growth in Turkey, in the next article.