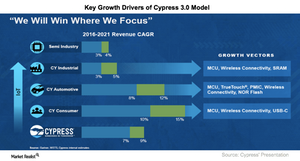 Cypress Semiconductor and Its Cypress 3.0 Model: Earnings Driver?
By Puja Tayal

Updated
2016: A dynamic year for Cypress Semiconductor
Last year was a period of transformation for Cypress Semiconductor (CY). In 2016, the company changed from a PSoC (Programmable System-on-Chip) supplier to a Cypress 3.0 model, an embedded solutions provider.
Over the past year, Cypress shares have risen 60.0% and are currently hovering above $13. Growth came after the company met or exceeded its earnings guidance for five quarters in a row. In fact, it reported its highest quarterly revenue in fiscal 4Q16, driven by a strong demand in the automotive and industrial segments.
Article continues below advertisement
Cypress's journey to an embedded solutions provider
In fiscal 2016, Cypress completed the integration of Spansion and acquired Broadcom's (AVGO) wireless IoT (Internet of Things) business. The first Spansion merger strengthened Cypress's position in the automotive market and brought scale in operations. The Broadcom IoT acquisition filled the technology gap with its connectivity solutions.
The two acquisitions helped Cypress shift its strategic direction to the high-growth markets of automotive, industrial, and consumer. Cypress 3.0 is now in place, aiming to provide customers with a complete embedded solution comprised of MCUs (microcontroller units), wireless connectivity, analog, USB (Universal Serial Bus), memory, and software.
Road ahead
Cypress expects to grow faster than the overall semiconductor industry (QQQ) by focusing on the above three markets. Looking at an average growth estimate, the semiconductor industry is expected to grow at a CAGR (compound annual growth rate) of 3.0%–4.0% between 2016 and 2021. The industrial, automotive, and consumer segments are expected to grow at a CAGR of 3.0%–5.0%, 8.0%–12.0%, and 10.0%–15.0%, respectively.
The new Cypress 3.0 model earns 20.0%, 31.0%, and 33.0% of its revenue from the industrial, automotive, and consumer markets, respectively. Cypress expects to grow at a CAGR of 7.0%–9.0% between 2016 and 2021 by leveraging its high exposure in these fast-growing markets.
Growth opportunities come with their own challenges
Strong growth opportunities, however, come at the cost of high leverage and low gross margins. Cypress's reduced profit margins are sufficient to service the interest on its debt but not repay the debt.
In this series, we'll see how the implementation of the Cypress 3.0 model could reflect on Cypress Semiconductor's earnings. We'll also look at the company's strategy to reach its target model earnings.