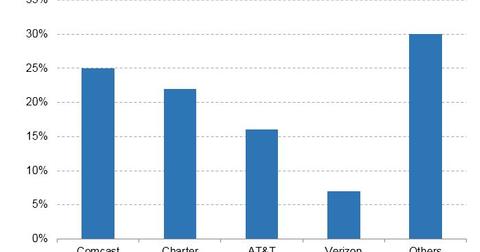 Could Webpass Be Alphabet's Saving Grace in the Internet Space?
By Ruchi Gupta

Updated
Google Fiber has run into obstacles
Alphabet's (GOOGL) dream of taking high-speed fiber Internet to millions of homes across the US (SPY) has run into all sorts of challenges, leading to speculations that the company could eventually exit internet service business by shutting or selling its Google Fiber division.
Faced with high costs, bureaucratic process of getting approval to lay cables and resistance from competitors such as Comcast (CMCSA), Charter Communications (CHTR) and AT&T (T), Google Fiber has stopped expansion into new cities. It has instead only been spreading its service within its existing footprints.
Article continues below advertisement
Webpass avoids Google Fiber's challenges
Alphabet's Webpass, a sibling of Google Fiber that was acquired last year and operates independently, is still going strong. Unlike Google Fiber, which uses cables to distribute broadband Internet, Webpass provides wireless broadband Internet service using powerful base stations that beam the Internet to receivers sitting on top of buildings.
Since no laying of cables across the streets is required, the deployment of Webpass is simpler and cheaper than Google Fiber. Webpass is available in San Francisco, Miami, San Diego, Oakland, and Boston. It recently announced plans to expand to Denver, and another job posting hinted that it could be eyeing the Seattle market.
Webpass costs $60 per month for unlimited downloads and uploads rendered at speeds of up to 1 Gbps.
Upholding the promise
Though Alphabet only added Webpass to its family of businesses in October 2016, it looks like a promising operation. It seems to hold hope for Alphabet's Internet ambitions. Demand for high-speed Internet access is on the rise globally with the advent of cloud computing and streaming television services.