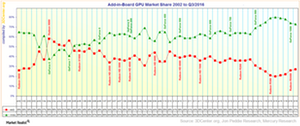 Could Vega and Ryzen Help AMD Regain Its Platform Leadership?
By Puja Tayal

Updated
Vega gives AMD an advantage over Nvidia
In the previous part of this series, we saw that Advanced Micro Devices's (AMD) Vega GPU[1. graphics processing unit] would be more powerful than Nvidia's (NVDA) most powerful GeForce GTX 1080 Ti. After some time, AMD's GPUs could outperform Nvidia's GPUs in terms of technology.
Nvidia would also launch competing Volta GPUs with HBM2 (high bandwidth memory) and a reduced node, but the launch is unlikely to occur before the end of 2018 or the beginning of 2019. By that time, AMD would have regained its platform leadership in the GPU market.
Article continues below advertisement
Threatened by the Vega GPU, Nvidia recently launched an upgrade to its GeForce GTX 1080 Ti. The Pascal-based Titan XP has higher clock speeds and memory and is priced at $1,200. This new GPU has changed Nvidia's GPU roadmap. Nvidia has already launched GeForce GTX Titan X (Maxwell) and Titan X (Pascal). The Titan XP (Pascal) is the second Titan GPU based on Pascal architecture.
This new GPU at such a high price point would not be able to compete with AMD's Vega GPU, which would be launched at a slightly lower price point.
Can AMD regain its platform leadership?
Advanced Micro Devices (AMD) gained platform leadership in 2006 after its acquisition of GPU maker ATI. AMD leveraged its CPU and GPU chips and combined them to make APUs.[2. application processor unit] 
However, product failures and delayed launches saw AMD lose its platform leadership in the semiconductor industry (QQQ). The company underwent a turnaround in 2015–2016 under the leadership of its new president and CEO, Lisa Su.
AMD is set to regain its platform leadership in the CPU[3. central processing unit] and GPU markets with the launch of Ryzen and Vega. These products would make AMD the only company with high-end CPUs and GPUs.
AMD's marketing efforts
Some analysts cautioned that Nvidia delivers deep and lasting technology without much marketing, whereas AMD markets its products extensively and falls short of Nvidia in terms of performance. It remains to be seen whether the Vega GPU lives up to its marketing claims.
In the next article, we'll see how AMD's computing and graphics segment could fare in the declining PC market.