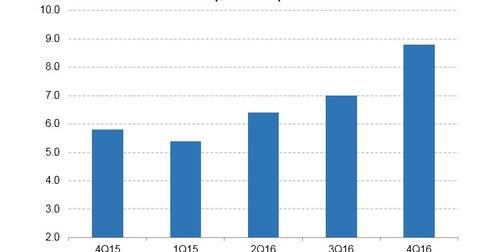 Could the Fake News Tool Hurt Facebook?
By Ruchi Gupta

Updated
'Disputed' news tag
Facebook (FB) is quietly stepping up its war against fake news on its social network. It's rolling out a feature that assigns a "disputed" tag on news stories whose accuracy is in doubt. The company is working with fact-checking organizations such as Snopes and PolitiFact to review stories that have been flagged by users as deliberately misleading.
But how Facebook's "disputed" news tag works is raising questions about whether it will help the company put the problem of fake news behind it. The reasoning behind the "disputed" tag is that it will help Facebook's 1.9 billion active users determine which stories have questionable accuracy so they can bypass them or read them with full knowledge that the information presented could be misleading.
Article continues below advertisement
The delay in assigning a 'disputed' tag
According to Recode, it takes several days from the time a story is published on Facebook before it's reviewed and assigned a "disputed" tag if its accuracy is in doubt. Publishers of fake news could exploit that delay to misinform readers during that time, thus frustrating efforts by Facebook to curb fake news content on its platform.
Ad-funded companies such as Facebook, Twitter (TWTR), and Alphabet's (GOOGL) Google could suffer if the war against fake news results in reduced user engagement on their platforms. Marketers study a platform's user engagement to determine how to allocate their advertising budgets. Facebook generated $8.8 billion in revenue in 4Q16, as you can see in the above graph, with the bulk of it from advertising.
Non-advertising revenue
Tough competition is growing for advertising dollars, and platform adjustments are running the risk of alienating users. As a result, Facebook is entering the devices business to grow its non-advertising revenue. It's producing virtual reality gear and could expand into the augmented reality market, putting itself in competition with Sony (SNE) and Microsoft (MSFT).