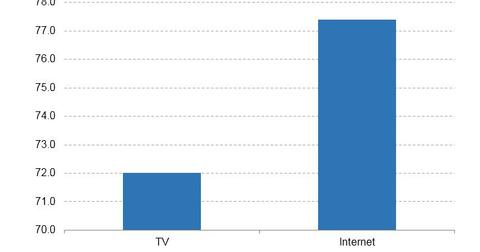 Could Facebook Save the Struggling Media Industry?
By Ruchi Gupta

Apr. 6 2017, Updated 9:36 a.m. ET
Bailing out starving media outlets
A debate has emerged about whether wealthy co-founders behind successful tech (technology) companies such as Facebook (FB), Alphabet (GOOGL), and Apple (AAPL) should be called on to bail out the struggling media industry. Fortune recently published a report that highlighted the view of two experts on what technology companies could or should do to save journalism from dying.
Facebook and fellow Internet ad-funded businesses are making money at the expense of traditional media outlets. That's because marketers are increasingly spending their budgets on digital ads, causing an ad revenue shortage for newspapers, radio stations, and television broadcast companies.
As you can see in the above graph and according to eMarketer, spending on television ads is shrinking rapidly in the United States. Spending on Internet channels is growing at a fast pace.
Article continues below advertisement
Donating to a $4 billion fund
According to Steven Waldman, former FCC (Federal Communications Commission) adviser, the following people should contribute their corporate profits to help create a $4.0 billion journalism fund:
Sergey Brin and Larry Page, co-founders of Google
Mark Zuckerberg, founder of Facebook
Laurene Powell, the widow of Steve Jobs, co-founder of Apple
Waldman argues that the initiative would help preserve journalism, which is dying of starvation as the Internet eats up its revenues.
Creating a digital BBC
Emily Bell, a media professional and former editor of the Guardian, has suggested that tech companies should contribute funds to help create a non-profit news organization like the BBC (British Broadcasting Company) in the United Kingdom.
Are the proposals practical?
Voluntary or mandated funding of the struggling media industry would certainly eat into the profits of Google, Facebook, and Apple. However, tech executives at Amazon (AMZN) and Alibaba (BABA) have shown that tech wealth can be used to give struggling media companies a new lease on life.
Amazon's co-founder Jeff Bezos has acquired the Washington Post, and Alibaba's co-founder Jack Ma has purchased the South China Morning Post.