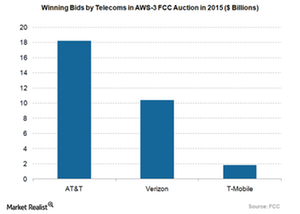 Could AT&T's Bid for Straight Path Ignite Dish's Bid for Ligado Networks?
By Shirley Pelts

Apr. 27 2017, Updated 10:37 a.m. ET
AT&T's bid for Straight Path
On April 10, 2017, AT&T (T) announced that it plans to acquire Straight Path Communications (STRP) for $1.6 billion. AT&T noted that Straight Path Communications has valuable millimeter wave spectrum that could support AT&T's foray into 5G.
According to a Reuters report from April 13, 2017, Verizon Communications (VZ) could also make a bid for Straight Path Communications.
Article continues below advertisement
Straight Path Communications and 5G
In the telecommunications world, 5G (fifth-generation) technology is generating a lot of buzz. It could provide 10x–100x faster wireless speeds than 4G (fourth-generation) technology.
The bid for Straight Path could lead Dish Network (DISH) to make another attempt at Ligado Networks (formerly LightSquared) for its spectrum. In 2013, Dish Network made a $1 billion bid for Ligado Networks, which it later abandoned. Ligado Networks provides satellite communications and is also developing a network to support 5G applications.
Management comments
In an earlier earnings call, Dish Network's management noted that it wouldn't rule out buying more spectrum in the secondary market, as the company sees itself gradually "transitioning to a connectivity company."
Dish Network stated during the company's fiscal 2016 earnings call that it is excited about 5G technology and expects the cost of building out a 5G network to be less than 4G. The company expects to get more coverage from a single tower site, resulting in fewer tower sites needed for a 5G network.
The company added that it intends its 5G network to be IP-based,[1. Internet protocol] which would further save costs.
AT&T and 5G
AT&T is also enthusiastic about the future of 5G technology, banking on its capacity to improve data speeds. It plans to hit 1.0 Gbps (gigabits per second) speeds in 2017 through the use of small cells and three-way and four-way carrier aggregation.
AT&T has been an aggressive player in the 5G market. In the past, it tried to outbid rivals in order to gain spectrum advantage. For example, AT&T was the highest bidder during the AWS-3 spectrum auctions in early 2015, purchasing spectrum worth $18.2 billion.