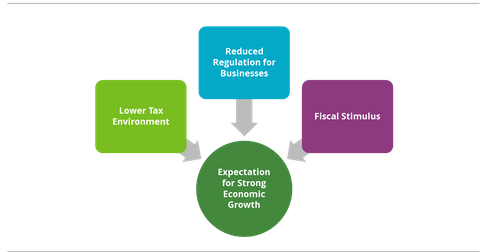 Cooperman on Trump: The Market Is Being Run by a Capitalist (Finally)
By Sarah Sands

Updated
Cooperman on Trump administration
Omega Advisors' chairman, Leon Cooperman, recently shared his view on the Trump administration in an interview with CNBC. Of course, after the US election, we saw a strong rally in the equity market, and since the US election, the S&P 500 Index (SPY), the Dow Jones Industrial Average (DIA), and the NASDAQ Composite returned 10.2%, 12.8%, and 12.4%, respectively, between November 8, 2016, and March 31, 2017.
Article continues below advertisement
Cooperman believes that this market rally reflects a government that is being run by a capitalist. Cooperman's opinion is that Trump's pro-growth agenda and proposed policy changes have driven markets higher and that Trump's focus on various economic policies could lead to higher job creation, since it has already improved investor sentiment.
Numbers aside, Cooperman claims Trump's popular
Cooperman also believes that most American citizens support Trump—despite Trump's record-low popularity across reliable polls and his loss of the popular vote in November. Cooperman thinks that Trump's proposed changes in policy are what's driving market sentiment, and he believes that Trump's upcoming tax reform package could be a big advantage for the economy. If Trump can get his reforms through Congress, to be sure, it would create a huge transformation in the US economy (VFINX) (VOO).
At the same time, Cooperman believes that Trump and his cabinet will change gradually over the next few years. Most of the cabinet positions have been filled by prominent businessmen, and Cooperman believes that these prominent businessmen and women are all well experienced, even though few have experience in government, and some have no experience in their respective jobs. To be sure, Trump's proposed tax restructure package, fiscal stimulus, higher infrastructure spending, and deregulation all appear to be driving the market sentiment.
In the next and final part of this series, we'll check in with Cooperman's view of Google.