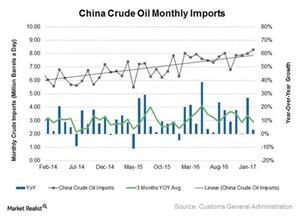 China's Oil Production and Imports Benefit Crude Tanker Industry
By Sue Goodridge

Dec. 4 2020, Updated 10:52 a.m. ET
March crude oil imports
China's crude oil imports in March hit a new record. Its total crude oil imports came in at 39.0 million tons, compared to 31.8 million tons in February.
On a daily basis, China's March imports totaled ~9.2 million barrels per day, which was 19.4% higher year-over-year and higher than January's imports by 10.7%. Crude imports exceeded the earlier record of 8.6 million bpd (barrels per day) seen in December 2016.
Article continues below advertisement
Importance of Chinese imports
China is one of the largest importers of crude oil. A change in Chinese crude oil imports has a key impact on tanker demand and rates. Bot of these factors affect crude tanker companies such as Frontline (FRO), Nordic American Tankers (NAT), Teekay Tankers (TNK), Euronav (EURN), DHT Holdings (DHT), and Tsakos Energy Navigation (TNP).
Oil production
After oil prices crashed in late 2014, many Chinese state-owned oil companies had to cut back production, especially the expensive ones. That led to a fall in China's oil production. In 2016, oil production plunged 7.0%, a fall of 480,000 barrels per day from the previous year.
In the first quarter of 2017, China's oil production fell 6.8% compared to the same period in 2016.
Oil production is expected to fall 7.0% in 2017. At the same time, China's oil demand is growing. In 2016, the demand rose 2.5%, and similar growth is expected in 2017.
China's oil demand is rising at the same time as its oil production is falling. That could result in its meeting higher demand through increased imports, which should benefit the tanker industry.
To gauge China's oil demand, we'll see how its manufacturing and auto industries are performing in the next part of the series.