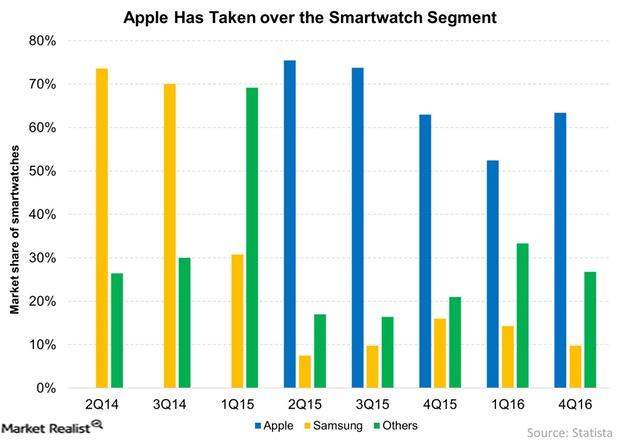 Can Samsung Overtake Garmin in the Wearables Market?
By Sanmit Amin

May. 1 2017, Updated 9:08 a.m. ET
Samsung saw decent growth in wearables
Samsung (SSNLF) showed significant growth in the wearable segment (WEAR) in 2016 with its shipments growing at the rate of 38.6%, according to IDC. This is the best growth rate among the top five players. Overall shipments in the wearables market rose a robust 25% in 2016. While Samsung still has the fifth highest market share in the wearables market, it has cut the gap between itself and fourth-placed Garmin (GRMN), which saw its unit sales fall 4% in 2016. Garmin and Samsung had 6.2% and 5.6% of the market share in 4Q16, respectively, compared to 7.6% and 4.7%, respectively, in 4Q15.
Article continues below advertisement
Samsung's share in the smartwatch market has dipped drastically
Samsung had the lion's share of the smartwatch market until 1Q15, after which Apple (AAPL) took over with its Apple Watch Series 1. Since then, Apple has been the leader in smartwatches, consistently cornering over 50% of the overall smartwatch market share.
However, Samsung still carves a niche for itself as it is still the only top player to have a separate LTE connection for its smartwatch. However, Apple is likely to have that feature in its third generation watch, which could launch later this year.
Samsung's updates
Samsung's two variants of Gear S3, Classic and Frontier, were released in November 2016. These products run Tizen OS instead of Android Wear and have GPS. Two weeks back, Samsung unveiled the value pack update for Gear S3 with improvements to S Health, reminders, and more. It also released three new smartwatch watch faces: outdoor, travel, and sport.
Gear S3 rivals Apple Watch with good hardware, an attractive design, and long battery life. However, Samsung's OS for its wearables, Tizen, is a drawback. Tizen has mediocre app support when compared to Apple's offerings.
Garmin has come up with a slew of new running watches within its Garmin Forerunner series. Meanwhile, Garmin Vivosmart HR+ has been highly popular. The Vivoactive HR includes many capabilities of Garmin's huge range of dedicated sports wearables. Garmin has a wide array of products compared to Samsung, which is why it may be able to protect its market share going forward.