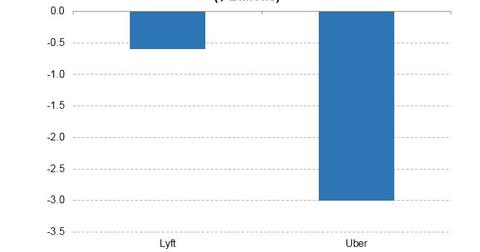 Can Google's Waze Carpool Put Uber Out of Business?
By Ruchi Gupta

Updated
Forget Waymo, here's Waze
While significant attention is usually given to Waymo as the business that will help Alphabet (GOOGL) rake in billions of dollars (UUP) in the ride-sharing business, there's a little-known Google product that's already causing ripples in the ride-sharing industry, and it's worth watching.
In 2013, Google acquired Waze, a navigation app provider, for $1.0 billion. In 2015, Waze launched a ride-sharing service called Waze Carpool. The ride-sharing service has been introduced in the United States (SPY) and Israel, and Google is taking to more US and international cities with a planned launch in Brazil (EWZ) before the end of the year.
Waze, the navigation app, has ~80.0 million active users according to The Wall Street Journal. More than 150,000 users have adopted its carpool program.
Article continues below advertisement
Threat to Uber and Lyft
The way Google has positioned Waze Carpool suggests it could be a serious threat to Uber, Lyft, and Didi Chuxing, a Chinese ride-hailing startup backed by Apple (AAPL). Uber and Lyft are loss-making business, as is shown in the above chart, and a new competitive threat such as Waze could wreak havoc in the ride-sharing space.
Waze Carpool's business approach is different than those of traditional ride-share providers. Instead of trying to connect drivers with passengers, it's a way for regular drivers to get company and make extra bucks on their way to the office. For example, a driver who lives in Oakland and works in San Francisco can connect with people in his area who are going in the same direction to share a ride in his car. Those sharing a ride with a Waze Carpool driver pay $0.54 per mile.
Source of new revenue
Waze Carpool drivers currently keep everything, but Google will start taking a 15% cut from drivers if the service is successful. For Google, Waze Carpool is promising new revenue for the company that will contribute to making it less dependent on Internet advertising.