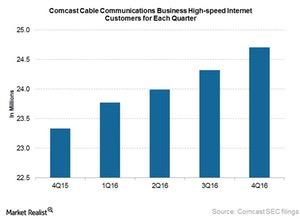 Can Comcast's High-Speed Internet Business Beat the Competition?
By Shirley Pelts

Apr. 24 2017, Updated 11:38 a.m. ET
Comcast's high-speed Internet business strategy
Late last month, Comcast (CMCSA) announced that it had introduced its Xfinity Prepaid Internet service, which would allow customers to sign up for Prepaid Internet service without signing up for an annual contract or undergoing a credit check. Comcast's customers would be able to opt for prepaid Internet service for seven or 30 days.
The company also recently announced Internet speed upgrades in several of its markets in an apparent Internet speed race with AT&T (T), Charter Communications (CHTR), and other ISPs (Internet service providers).
Article continues below advertisement
The company had announced that, beginning March this year, its Houston, Texas, customers on its Performance Internet plan would enjoy download speeds of up to 70 Mbps (Megabits per second) instead of the previous maximum of 50 Mbps. This speed increase didn't come at an additional cost to customers.
The company also intends to continue with the rollout of its DOCSIS (Data Over Cable Service Interface Specification) 3.1 technology and expects it to be available across the majority of its footprint by the end of this year. The company expects the rollout of DOCSIS 3.1 to give it a competitive advantage.
The company is also continuing to invest in its XB6 modem, and it expects it to be five times faster than any other modem. Comcast currently has 15.0 million hotspots across the United States (SPY). The company is also rolling out its Xi5 set-top box, which is HDR (high-dynamic range) 4K (4,000-pixel) capable.
Comcast intends to grow its market share
Comcast believes that there is room to grow its market share in the high-speed Internet market. Currently, Comcast's market penetration for its high-speed Internet business stands at 75%. In fiscal 2016, Comcast's high-speed Internet business crossed the 1 million subscriber mark with 1.4 million net additions, its strongest growth in the past nine years.
As a result, Comcast believes that its high-speed Internet business has the potential to increase its market share. As the above chart indicates, Comcast had around 24.7 million high-speed Internet customers in fiscal 4Q16.