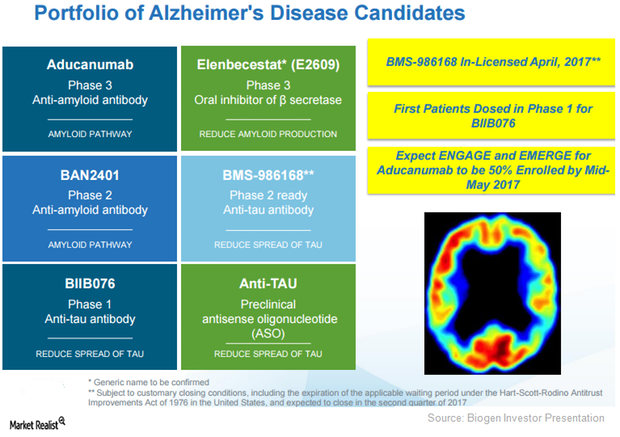 Biogen Pursuing Investigational Candidates in Alzheimer's Disease
By Margaret Patrick

Nov. 20 2020, Updated 4:29 p.m. ET
Anti-tau investigational therapy
On April 13, 2017, Biogen (BIIB) announced that it has entered into a licensing agreement with Bristol-Myers Squibb (BMY) to obtain exclusive global rights related to the development and commercialization of Phase 2 ready investigational therapy BMS-986168. The deal is expected to close in 2Q17. Biogen has agreed to pay Bristol-Myers Squibb around $300.0 million as an upfront payment and an additional $410.0 million as milestone payments and royalties.
Article continues below advertisement
In its Phase 1 study, BMS-986168 demonstrated a favorable risk benefit profile by lowering tau protein in cerebrospinal fluid. This tau forms deposits or tangles in the brain, which is considered a key driver of neurodegenerative disorders. Biogen plans to evaluate the potential of this experimental anti-tau therapy in Alzheimer's disease and PSP (progressive supranuclear palsy).
If BMS-986168 demonstrates its potential as an Alzheimer's disease therapy, it will have a positive impact on Biogen stock as well as the iShares Russell 1000 Growth (IWF). Biogen makes up about 0.56% of IWF's total portfolio holdings.
Alzheimer's disease portfolio
In addition to its newly acquired anti-tau therapy, Biogen is also evaluating the anti-tau human monoclonal antibody BIIB076 in its Alzheimer's disease segment. Currently in a Phase 1 trial, this investigational therapy was invented using Neurimmune's reverse translational medicine platform.
Biogen is also progressing with the enrollment of subjects in the Phase 3 trials ENGAGE and EMERGE, which will evaluate the potential of aducanumab, a beta-amyloid targeting investigational therapy. The company expects to complete 50.0% of the enrollment for these trials by mid-May 2017. To know more about Biogen's aducanumab research efforts, please refer to Alzheimer's Research Is Still Key Driver of Biogen's Valuations
With multiple candidates in its research pipeline, Biogen plans to pose stiff competition to other Alzheimer's disease players such as Eli Lilly (LLY) and AbbVie (ABBV).