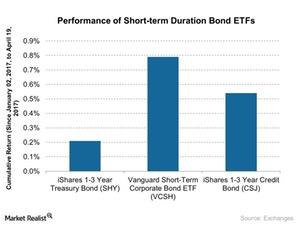 Bill Gross Says These Instruments Have Investment Opportunities
Bill Gross on investment opportunities
In an interview with CNBC, Bill Gross shared his views on investment opportunities in the present scenario.
He suggested some short-term duration investment products since he believes economic (SPY) (QQQ) growth may not reach the level of investor expectation. He also believes productivity isn't improving at a higher rate and that policy distortions are likely to continue.
Speaking on Treasury bond yields, Gross said, "Perhaps the markets are beginning to anticipate lower growth as well. But today's global bond market yields represent severe policy distortions that present an obvious risk/reward imbalance."
Article continues below advertisement
Earlier, in his February investment outlook, Gross said the debt on central banks' balance sheets rose $10.0 trillion from 2003 to 2016. He said the policy designed by central banks is hurting the global economic equilibrium and added, "In the process however, as I have frequently written, capitalism has been distorted: savings/investment has been discouraged by yields/returns too low to replicate historic productivity gains."
Will short-term investments provide a strong return?
On investments, Gross said, "You simply de-risk in terms of bonds instead of extending duration. You hunker down and you take low duration, short duration vehicles that basically don't return as much. In terms of high yield bonds yeah, you reduce some of them." Lower duration bonds won't be significantly impacted by change in monetary policy decisions.
Various short-term duration bond ETFs such as the iShares 1-3 Year Treasury Bond (SHY), the Vanguard Short-Term Corporate Bond ETF (VCSH), and the iShares 1-3 Year Credit Bond (CSJ) rose 0.21%, 0.79%, and 0.54%, respectively, on a year-to-date basis as of April 19, 2017.
Are equity markets looking attractive?
Gross said, "In terms of stocks, you know, if they're really based on a 3 percent growth assumption which leads to 5 to 10 percent corporate profit growth, then you reduce your equity holdings."
For more information, you may be interested in Goldman Sachs: Market Already Hit 'Point of Maximum Optimism.'