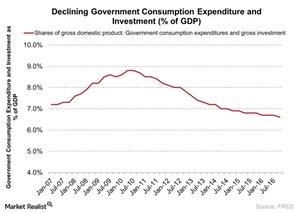 Is Bill Gross Doubting a 3% Growth under Trump?
By Sarah Sands

Apr. 20 2017, Updated 5:35 p.m. ET
Bill Gross on economic growth
In his investment outlook for April 2017, Bill Gross raised a question about whether President Donald Trump's economic agenda could create a 3.0% growth in the economy.
We've already seen that Gross is concerned about all asset prices and believes they've reached an elevated level with the expectation of higher growth. He also believes there was an artificial bubble created for various asset prices.
Article continues below advertisement
On the other hand, he's focusing on productivity and gross investments. Declining productivity (VFINX) (IWM) has hampered economic growth (SPY) (QQQ). Gross believes that growth mainly depends on productivity. He said, "Growth is productivity dependent, and the experts are in a tizzy trying to explain why productivity in the last five years has averaged only .5% versus a prior pre-Lehman 'old normal' of 2%+."
Productivity and gross investment
The decline in gross investments is a major reason behind the fall in productivity and economic growth. From the graph, we can see that the government's consumption expenditure and gross investment as a share of GDP has been falling, from 8.7% in October 2010 to 6.6% in October 2016. The gradual fall in the performance of gross investments in the last five years is showing that productivity is also falling. Gross said, "High rates of growth, and the productivity that drives it, are likely distant memories from a bygone era."
Corporate tax restructures
However, Trump's proposed restructuring of corporate taxes is expected to attract more investments. It also could create more job opportunities. But after the healthcare bill failed to get enough votes among House members, investors are concerned about a tax restructuring bill and whether Congress will pass it in 2017.
In the next part of this series, we'll analyze Gross's view on the Federal Reserve.