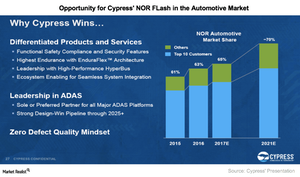 Behind Cypress's Product Strategy for NOR Flash
By Puja Tayal

Apr. 17 2017, Updated 9:05 a.m. ET
Cypress's product strategy for NOR flash
Cypress Semiconductor (CY) is witnessing strong growth for its USB (universal serial bus) type-C ports. As the market matures and USB-C gets commoditized, the company will likely shift its focus toward high-margin USB products used for integration and programmability.
Cypress has adopted a similar strategy for its NOR memory products, which are already commoditized. Samsung (SSNLF) and Micron Technology (MU) are key players in the commoditized memory market, but Cypress is only looking to grow in the high-margin markets for NOR, automotive, and industrial.
Article continues below advertisement
At the company's 2017 Analyst Day, Cypress CEO (chief executive officer) Hassane El-Khoury explained the company's flash gross margin strategy, stating that the company's target gross margin is 50% and that it aims to achieve that by exiting the low-margin markets and focusing on high-margin products. (NOR flash has generated a low gross margin.)
After the Spansion merger, Cypress exited the commoditized market by increasing the prices of its NOR flash products. It lost some of its customers, but the action also reduced the company's sensitivity to memory prices.
Commoditized products generated about $80 million in revenue for Cypress, and the company has simply walked away from this revenue. This act improved its memory division's gross margin, however, from 25% at the time of the Spansion merger to around 30% right, though revenues took a hit. Still, memory is not a growth area for the new Cypress 3.0 model, wherein the company expects to see a 2%–5% revenue fall, annually, over the next five years.
Memory: a strategic fit for Cypress 3.0? 
Addressing this question, Hassane El-Khoury replied that Cypress believes that memory is strong in specific end-markets such as automotive and industrial. The company is thus focusing its memory products on these growth markets, and it has integrated its NOR flash memory with its microcontrollers and radios as part its strategy to add more content per car.
While it's clear that memory is a complimentary product and is helping Cypress deliver complete embedded solutions, it's still not clear whether memory will be an overall strategic asset or not, and so there's always a possibility that Cypress could spin off its memory division. As NOR flash memory market conditions improve, Cypress may get a good buyer for its memory products division.
What remains clearest, in any case, is that Cypress is heading toward a high-margin product strategy in the fast-growing markets of automotive, industrial, and consumer technology.