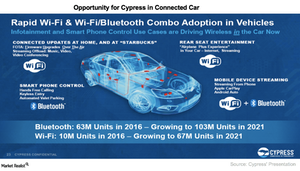 Behind Cypress's Offerings in Car Connectivity and Infotainment
By Puja Tayal

Updated
Connectivity and car infotainment
Connectivity is at the heart of tomorrow's vehicles. As automation in cars increases, vehicles increasingly need V2X (vehicle-to-everything) communications. While this is still in the distant future (and is unlikely to come before 5G), in-car connectivity is still booming.
Notably, Cypress Semiconductor (CY) completed the acquisition of Broadcom's (AVGO) IoT (Internet of things) business in an effort to improve its connectivity offerings.
Article continues below advertisement
What is driving content in connectivity?
Today, many drivers unlock and start their cars using smartphones. Riders can charge their phone or connect phones to car infotainment, and a driver can control the car from a smartphone by connecting the two via Bluetooth. Riders can also connect the in-car infotainment to the Internet using WiFi, or they can connect their phone to rare entertainment using a combination of Bluetooth and WiFi.
Cypress estimates that its car Bluetooth shipments will increase from 63 million units in 2016 to 103 million units by 2021 and that its car WiFi shipment will increase from 10 million units to 67 million units during the same period. Cypress also estimates that the connected car market will grow at a CAGR (compound annual growth rate) of 13.6% and that the car infotainment market will grow at a CAGR of 7% between 2016 and 2021.
Cypress innovates in infotainment and connectivity
At the company's 2017 Analyst Day, Cypress CEO (chief executive officer) Hassane El-Khoury stated that the company is tapping the infotainment space by adding advanced features. In 2010, the company offered mechanical iDrive control for the BMW 7 Series. In 2016, it added features such as gesture control, character recognition, and infotainment CID (central information display) features to the same model.
Article continues below advertisement
Cypress is currently developing fingerprint identification for the driver, including finger navigation on the steering wheel and USB-C to connect or charge consumer electronics such as smartphones and laptops. The company is also developing gesture identification technology to facilitate touchless interaction.
Increasing semiconductor content
All these offerings will likely increase semiconductor content per vehicle. Cypress plans to offer a programmable system on chips and microcontrollers for gesture recognition, touchpad for fingerprint identification, USB-C port to connect the phone to the car, and touchscreens for in-car infotainment.
Cypress is a leader in touchscreen infotainment, with a 46% market share in 2016. It's supplying WiFi-Bluetooth combinations to seven of the top eight auto OEMs (original equipment manufacturers) including Ford Motor (F) and Fiat Chrysler (FCAU).
| | | | | | | | | | | |
| --- | --- | --- | --- | --- | --- | --- | --- | --- | --- | --- |
| | Detect languageAfrikaansAlbanianArabicArmenianAzerbaijaniBasqueBelarusianBengaliBosnianBulgarianCatalanCebuanoChichewaChinese (Simplified)Chinese (Traditional)CroatianCzechDanishDutchEnglishEsperantoEstonianFilipinoFinnishFrenchGalicianGeorgianGermanGreekGujaratiHaitian CreoleHausaHebrewHindiHmongHungarianIcelandicIgboIndonesianIrishItalianJapaneseJavaneseKannadaKazakhKhmerKoreanLaoLatinLatvianLithuanianMacedonianMalagasyMalayMalayalamMalteseMaoriMarathiMongolianMyanmar (Burmese)NepaliNorwegianPersianPolishPortuguesePunjabiRomanianRussianSerbianSesothoSinhalaSlovakSlovenianSomaliSpanishSundaneseSwahiliSwedishTajikTamilTeluguThaiTurkishUkrainianUrduUzbekVietnameseWelshYiddishYorubaZulu |   | AfrikaansAlbanianArabicArmenianAzerbaijaniBasqueBelarusianBengaliBosnianBulgarianCatalanCebuanoChichewaChinese (Simplified)Chinese (Traditional)CroatianCzechDanishDutchEnglishEsperantoEstonianFilipinoFinnishFrenchGalicianGeorgianGermanGreekGujaratiHaitian CreoleHausaHebrewHindiHmongHungarianIcelandicIgboIndonesianIrishItalianJapaneseJavaneseKannadaKazakhKhmerKoreanLaoLatinLatvianLithuanianMacedonianMalagasyMalayMalayalamMalteseMaoriMarathiMongolianMyanmar (Burmese)NepaliNorwegianPersianPolishPortuguesePunjabiRomanianRussianSerbianSesothoSinhalaSlovakSlovenianSomaliSpanishSundaneseSwahiliSwedishTajikTamilTeluguThaiTurkishUkrainianUrduUzbekVietnameseWelshYiddishYorubaZulu |   |   |   |   |   |   |   |
Text-to-speech function is limited to 200 characters