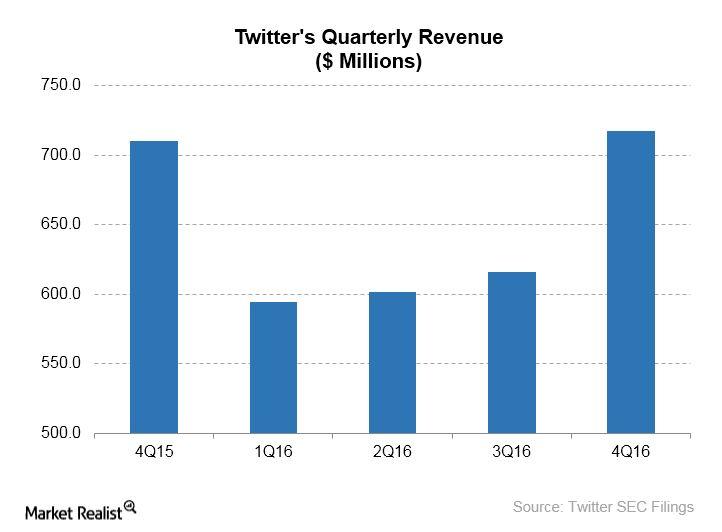 Assessing Twitter's Video Formula
Subscriber growth on the radar
Twitter's (TWTR) recent struggles mostly stem from its inability to draw more new subscribers to the platform and to encourage existing users to spend more time on its site.
When Twitter releases its 1Q17 report on April 26, 2017, investors should be focused on the company's subscriber metrics. These metrics indicate the company's future in the increasingly competitive social media industry.
Article continues below advertisement
A new approach to acquire premium video content
According to a recent report in The Telegraph, Twitter has come up with a different video formula designed to attract and retain subscribers on its platform. Twitter is seeking deals with pay-TV companies to enable their subscribers to access paid channels within the Twitter app, allowing them to watch TV as they tweet.
This kind of arrangement could help Twitter in several ways. The company would be able to foster user engagement on its platform, which would create room to grow its revenues.
The chart above shows Twitter's quarterly revenues for the last five quarters. The company would also be able to increase the amount of high-quality video content on its platform without having to enter expensive content licensing deals.
Twitter: Offense or defense?
Snap's (SNAP) IPO has intensified competition for digital advertising funds, putting pressure on social media companies like Twitter, Facebook (FB), Alphabet's (GOOGL) Google, and Microsoft's (MSFT) LinkedIn to differentiate their services to protect their ad turf.
For Twitter, though, there is little to protect. Instead, the primary focus of its management is to grow the company's share of the social media market in terms of subscribers and advertisers.