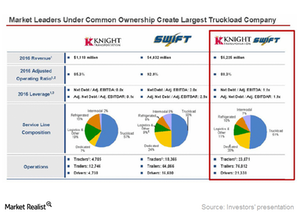 Are the Swift and Knight Deal's Synergies Overstated?
By Samuel Prince

Apr. 13 2017, Updated 10:36 a.m. ET
Possible synergies
Both Swift Transportation (SWFT) and Knight Transportation (KNX) expect their proposed merger to be accretive to their adjusted earnings per share.
According to the companies, their deal is set to generate pretax revenues and cost synergies of ~$15.0 million in 2H17, $100.0 million in 2018, and $150.0 million in 2019.
Article continues below advertisement
A rough sketch of combined financials
Knight Transportation's and Swift Transportation's combined revenues in 2016 were ~$5.1 billion. Combined, the companies generated $416.0 million in adjusted operating income and $806.0 million in adjusted EBITDA (earnings before interest, tax, depreciation, and amortization) in the same year.
However, note that their combined financials excluded synergies, transaction and related expenses, and transaction accounting, including the amortization of intangibles.
Both companies' combined net debts on December 31, 2016, were near $1.1 billion. In addition, their combined leverage ratio (net debt-to-adjusted EBITDA) was ~1.3x. Once the transaction closes, Knight-Swift anticipates paying its stockholders quarterly dividends of $0.06 per share.
KNX and SWFT's combined free cash flows were ~$495 million in 2016. The companies expect net capital expenditure in the $345 million–$410 million range in 2017. The merger is expected to close in 3Q17.
Reviewing the proposed synergies
Note that SWFT's standalone operating margin was a mere ~7% in 2016, whereas KNX's was 14.7%. Though Knight operates with a higher margin, applying best practices to exercise cost control could be challenging for its management. In terms of revenue, SWFT's is almost four times higher than KNX's.
A deep dive into the synergies proposed by these Phoenix-based transportation majors reveals that their cost synergies are roughly 50%, and their remaining synergies are revenue synergies.
Remember that cost synergies can be achieved because they're internal in nature, but the same can't be said for revenue synergies. Plus, even if we annualize the merged entity's 2017 synergies at $30.0 million, its realizing $100.0 million in synergies in 2018 looks difficult.