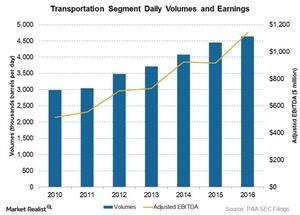 Analyzing the Performance of PAA's Transportation Segment
By Rekha Khandelwal, CFA

May. 1 2017, Updated 9:09 a.m. ET
Transportation segment
Plains All American Pipeline's (PAA) Transportation segment transports crude oil and NGLs (natural gas liquids). The company's pipelines for crude oil and NGL transport spread across the Permian Basin in West Texas and South New Mexico, the Eagle Ford Shale in South Texas, offshore California, the Rocky Mountains, the Gulf Coast, and Canada.
The chart above shows the segment's average daily volumes growth and adjusted EBITDA[1. earnings before interest, tax, depreciation, and amortization] over the last seven years. The volumes include crude oil and NGL volumes.
Article continues below advertisement
Plains All American Pipeline's (PAA) Transportation segment saw a 4% rise in its total volume for 2016 compared to 2015. However, the segment's adjusted EBITDA saw an impressive increase of 24% due to increased volumes and margins on Permian Basin pipelines. This increase was also due to earnings from its 40% interest in the Saddlehorn Pipeline, which was placed in service in 3Q16.
2017 outlook
Plains All American Pipeline (PAA) expects its Transportation segment's 2017 adjusted EBITDA to increase ~$174 million, or 15%, over 2016. The increase is expected to be driven by growth in its Permian Basin production, acquisition of the Alpha Crude Connector (discussed in Part 2 of the series), increased contribution from capital projects placed in service in 2016 and 2017, and step-ups on the segment's MVC (minimum volume commitments).
The company's Transportation segment primarily earns fee-based revenues on crude oil and NGLs transported. Its operations are not directly impacted by changes in commodity prices. 
The segment's assets comprise 46% of the total assets value of all three segments. For 2016, the profit for the Transportation segment was $0.67 per barrel.
Some of the other MLPs that have NGL pipelines include DCP Midstream Partners (DPM) and Enbridge Energy Partners (EEP).