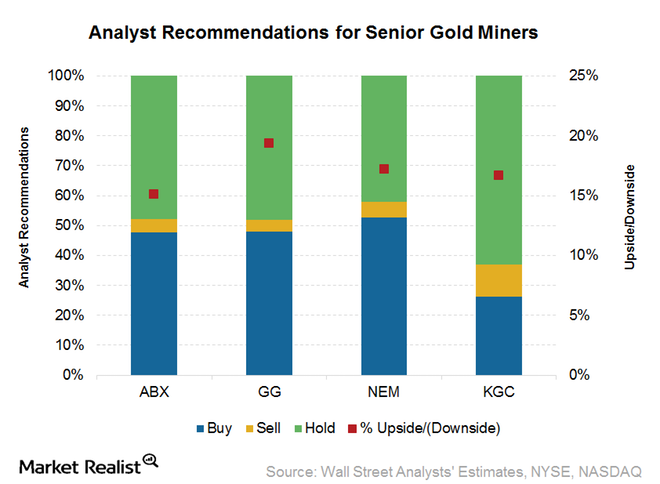 Barrick Gold on the Street: How Analysts Are Reacting to the Quarterly Miss
Analysts' ratings
According to the consensus analyst estimates compiled by Thomson Reuters, Barrick Gold (ABX) has 46.0% "buy" ratings, 46.0% "hold" ratings, and 8.0% "sell" ratings. Its target price implies an upside of 29.0% based on its current price of $16.90.
Article continues below advertisement
Not much of a concern?
As reported by the Globe and Mail, Morgan Stanley (MS) analyst Evan Kurtz noted that Barrick's lowered production was "largely expected." Kurtz also mentioned that Barrick will now have to play catch-up for the rest of the year to achieve its guidance. MS kept its estimates for other mines mostly unchanged for Barrick.
Meanwhile, Credit Suisse (CS) analyst Anita Soni noted, also in a report by the Globe and Mail, that "the strategic benefits of diversifying exposure from an asset which has had recent operational issues, in addition to partnering with Shandong…outweigh the modest financial dilution on our estimates."
But Barron's reported Soni as stating the following: "ABX reported Q1/17 adj. EPS of $0.14 below CS est. of $0.19 and Bloomberg consensus of $0.21: earnings were impacted by lower production and higher costs versus CS estimates."
Soni was also reported as stating: "This result represents a relatively rare quarterly miss for ABX, which had beaten five of the past six quarters. We continue to rate ABX Outperform for its differentiated strategy focused on ROIC and its quality asset base. Valuation on P/NAV at spot at 1.46x is slightly more attractive than peers at 1.50x as is FCF yield of 4.4% vs. peers at 3.6%. Commodity prices are the key risk to our view."
Questions about the long term
Macquarie analyst Michael Siperco, on the other hand, is more concerned about the long-term production outlook for Barrick. Siperco reckons that the company can maintain a production of at least 4 million ounces annually until 2027. But Siperco expressed his concern this way: "The question is beyond that."
The long-term production sustainability is not just a question particular to Barrick, however. Barrick's peers (GDX) (GDXJ) such as New Gold (NGD), IAMGOLD (IAG), and Kinross Gold (KGC) all face the same concern.